Listen Moms:
Do you feel you are always on the go?
Do you feel like you are a mom taxi?
Do you feel like your children have a bigger social life than you?
Are you always writing on your hands to try and remember an event?
Are you a room mom at your child's school?
If you answered yes to even one of these questions, then I have a great solution for you.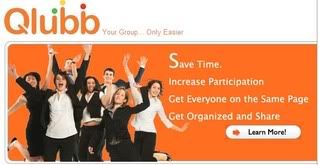 I am all the time trying to remember all my family's events through out the week. So I signed up for Qlubb. It was free, very simple and easy to sign up.
I immediately logged in and thought it was very user friendly. The best part is…you can invite your whole family. All you have to do is give them the family password, and each family member can write down their to-do list, coming up events, vacations or even dr appointments. THEN… mom will not be clueless each and every day when she is trying to play mom taxi and get everyone to where they are suppose to be.
The neat thing also, is you can create multiple groups for your book club, school groups, church groups, or sport teams. There is no reason to loose emails, or forget to email someone. Now, you can have it all in one organized calendar online. It is easily secure with a password only you and your group will know.
You can share photos privately within your group, even share files, or create your own message board within your group. All in one place, instead of going through mounds and mounds of emails that will not be organized.
So quit forgetting, quit being misunderstood, quit the uncoordination… just quit it ok? It's all about organizing and making the whole group of parents happy :). Remember if mommy is not happy then no one is!
What are you waiting for? Go get organized now and best of all it is FREE! Tell me what you think when you sign up :).