We are so excited. One of our favorite family movies is returning back to theatres.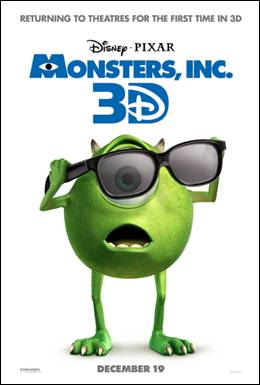 "Monsters, Inc.," one of Disney•Pixar's most beloved and visually imaginative feature films ever, returns to the big screen to delight a whole new generation of audiences and fans alike, this time in stunning 3D.
I get to show you a sneak peek into the movie.
We already have December 19 marked on our calendars. As if that was not enough exciting news, Disney also released that on June 21, 2013, Disney•Pixar will unlock the door to a prequel, "Monsters University," that tells the story of how Mike and Sulley met in college, overcame their differences and became the best of friends. Pretty cool right?
Will you be taking your kids to see MONSTERS, INC in 3D?