There is something about this time of year, that I just love to cuddle up and sit down and watch a great movie with my family.
A wonderful movie was brought to my attention and it happens to be an independent movie. "Delgo"
Here is a never before seen image from the movie.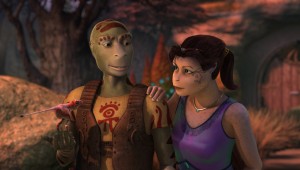 As you can see the  movie is animated which would make a great hit for the whole family. From watching a short trailer of the movie, I can tell the movie will keep you on your toes. It is very fast paced, and full of action and adventure.
I really like the morals in the story as well. For example, in one part of the movie, two people have to put their differences aside in order to combine together to take an enemy down. I will not say anymore than that, as I do not want to spoil it.
You will hear some very familiar voices in the movie such as, Freddie Prinze Jr., Jennifer Love Hewitt, Burt Reynolds and Kelly Ripa to just name a few.
Overall, I think this is a great movie to go out and watch with your family. It's fun, it will keep your attention, and the animation is such great detail in the movie. To learn more read here: Delgo It will be released in theaters on December 12… so let me know if you all plan on going to see it!