Infants are so sweet. I am enjoying being a Nonnie so much to Baby Jackson. He makes our entire family smile and L said last night she wished he was our baby the entire time. I think someone is loving being an Aunt. He is only slightly spoiled, who am I kidding? He is going to be very spoiled.
As infants gain more weight, carrying them in their car seat can be hard on the arm and elbow. Charlotte, NC mompreneur, Michelle Walsh, has designed a cover that envelops the entire top of the uncomfortable plastic car seat handle. The cover is made with colorful, durable corduroy and memory foam cushioning. Parents and caregivers can now tote their babies in comfort and style. Check out Baby Jackson with his Cocoonies on his car seat handle.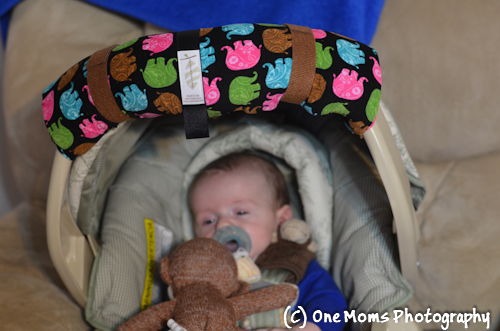 Michelle Walsh, owner of Cocoonies, is a mother of four and former attorney.
"By the time I had my fourth child, I was beyond frustrated with how unbearable it was to carry around the car seat – my mission was to design a product that was fashionable and functional. It fits on most car seats, features adjustable straps, and a toy tag for maximum usability."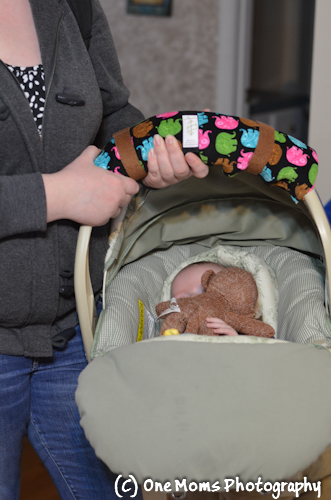 My step-daughter loves carrying Baby Jackson with the Cocoonies on the handle. She loves the padding feeling and also the included toy ring. The padding feels like memory foam. Each time I have carried Jackson in his car seat, I have loved it as well.
Cocoonies is also spreading goodwill towards military families through involvement with Operation
Shower, a non-profit organization that provides baby showers to military moms-to-be, easing the burden of their spouses' deployment. By donating product to baby showers planned around the U.S. this year, Cocoonies joins in the efforts to celebrate these women who are often forgotten.
Visit Cocoonies to see all the fabric styles and to order. We are all big fans and highly recommend!