I'm so excited… I just had to come share and brag on Jenn over at All Natural Mommies as well. See she had seen one of my blog designs and had emailed me and I suggested why not we just barter? She agreed YAY! So first off go look at her new blog design and then look below of what we barterd with.
You see I have always wore Lyndsee in pouch slings, but with her getting so tall, she was getting really cramped and would not let me sling her anymore :(. I ran across these new carriers of Jenn's and I believe this is just what we have been looking for. Lyndsee LOVES LOVES LOVES to ride on my back so I'm hoping this will be a big plus for her. Now, I have some practice to do on getting this perfected, but as you can see on the picture below she is loving it. I had the fabric behind her leg and it should have been in front of it. We'll keep working on it :).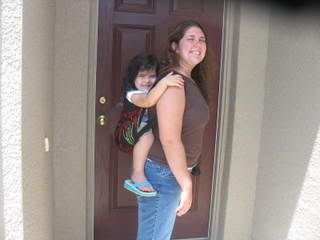 I am just so happy about this, now my arms will not ache so much in stores, as my little missy does not like to be out of my arms much ;).
Thank you so much Jenn!! I'm in love! If you are in the market for a new carrier, hop on over there now and Jenn will help you find just the right product for you and your child.