Spring is just around the corner – or at least I think so? One day we are experiencing temperatures in the 60s and the very next day we have 4 inches of snow on the ground. Can you tolerate the huge difference in temperatures or do you just wish the temperatures would moderate? Fortunately, I have lived in the mountains my entire life so I can tolerate the weather moodiness.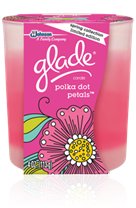 I do have good news for those of you tired of all the ups and downs of the weather! Try the Glade® Limited Edition Spring Collection, available at your nearest Food Lion! The new scents are Magic Meadows™ and Polka Dot Petals™. Enhancing your home's ambiance has never been easier or more affordable.
Available in 4 oz. candle jars, premium room sprays, scented oil candles and PlugIns® Scented Oil refills, Glade® Limited Edition Spring Collection fragrances are a must-have this spring! They are cost-effective and stylish.
In fact, last week, I was able to see some of the other new Glade® products while I was in Nashville at BlissDom and the new Glade® Expressions Oil Diffuser caught my eye first thing. I love how Glade® is taking fragrance to the next level with design. This new diffuser is so trendy and modern – it masks the traditional room fresheners. The design is so me. The décor is different and yet beautiful all at the same time. It brings life into a room while keeping a room smelling so fresh.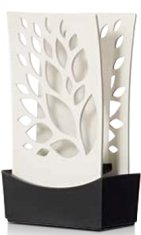 Does this not look like a design you would see on Pinterest? I will be pinning this design immediately. It brings great joy to see a company like Glade® reach into the mom market and produce such trendy designs that we all can enjoy this spring season.
Head to the store now to bring in a breath of fresh air to your home. It will have you in a better mood in no time.
Disclosure: This post is in conjunction with a partnership with Glade®. All thoughts and opinions are of my own.