First off I want to take a minute to thank you for all the emails, words of support, and prayers from all you wonderful blogging mamas. It helped just reading all your words to get through each day. I will be writing more of an update on what is going on with hubbs in the next post.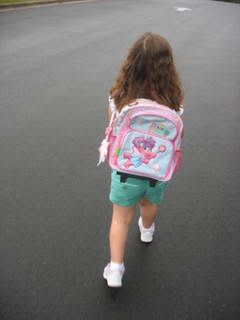 And she's off…. on to a new chapter in her life. Her first year of elementary school. The tears sure did flow down my worried face when I looked back in her classroom. I just wanted to run in and grab her up and run forever. My little girl how can she be in school.
She was so excited and couldn't wait to check out all the cool centers in her classroom that they use to teach the children by.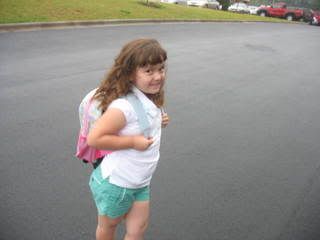 Once we got to the door, I just froze. Please stand still time. Let me relish in these last moments of my little non-schooler and press into my memory forever.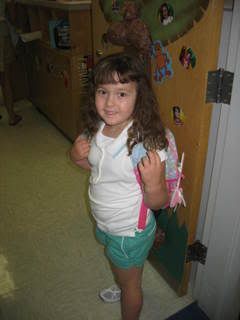 That smile made it so much better to get through that first morning. I love my girls more than life itself and just seeing one go off to school makes you think to never take one moment for granted. As we will blink and they will be walking down the aisle for marriage. SIGH!
She came home that evening and was so full of stories about her day! I sat back and just listened at how well my little girl was taking it all in at school. I can do this… I can do this… I can do this I kept repeating. This will be a great year!!!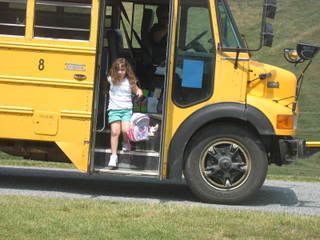 A couple first day stories:
Mom, this girl in my class said the tooth fairy left her 16.00 for her first tooth she lost!
Me: Madisyn was you good at school today?
Madisyn: Mom, ugggh I am always good at school, just not at home.
Hey at least she's honest huh? LOL.