Spring gets sweeter with two new whimsical adventures. On our road trip this weekend, the girls were having fun with the new adventures. I love that a childhood favorite of mine is back just in time to be a favorite of my girls. Strawberry Shortcake: Berry Brick Road and Strawberry Shortcake: Bloomin' Berry Garden, blossomed on DVD earlier this month from Twentieth Century Fox Home Entertainment.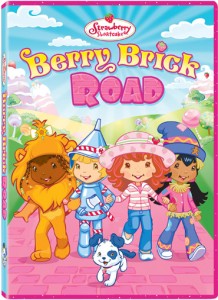 First, Strawberry Shortcake: Berry Brick Road follows Strawberry and her friends as they retell the classic "Wonderful Wizard of Oz."  When a cyclone blows Strawberry to the strange land of Oz, she runs into trouble with the Wicked Witch and must journey to the Emerald City to ask the Wizard how to find her way back home.
Next, Strawberry Shortcake: Bloomin' Berry Garden shows that it's time for garden growing fun with Strawberry and her friends as they prepare for the Spring Flower Festival!  But when magical sparkles make the Berrykins grow tall and the girls shrink down small, they discover that even when they're tiny, they can make a big difference.
There are not many shows left in today's society that is good clean family fun. The girls have watched the DVDs over and over this past weekend and have enjoyed telling their favorite parts to me. I would love for  you to experience the fun with your kids as well.
COLORING CONTEST
1. Print this coloring sheet. Have your little one color to their delight.
2. Once the coloring sheet is finished, submit photos of your child's beautifully colored sheets via Twitpic (or your fave twitter photo tool) to @onemomsworld and @FoxHomeEnt, using the hashtag #StrawberryShortcake.
3. Fox Entertainment will then choose five of their favorite submissions, and those readers' entries will be re-tweeted from @FoxHomeEnt and each will win both new Strawberry Shortcake DVDs described above! Pretty cool right?
Let the coloring begin. I can't wait to see the beautiful artwork!