Washing clothes in cold water? Of course, that is how we roll here at One Moms World. My mom taught me this trick long before I left the house years ago. Does cold water really work? Well, on all stains I would always have to spray stain remover before I could wash the stained item in cold water. This could be a problem, because at times I would forget to do the stain remover and would still be stuck with the stain after completing the laundry. I believe I have the problem solved for my forgetfulness.
I took the Tide Coldwater Challenge. The challenge came at a perfect time. M picked out this beautiful white dress for the holidays. She wore the dress one time and what happens? You guessed it… a stain on the beautiful white dress.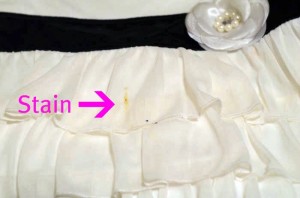 I stayed calm because we just had received the bottle of Tide Coldwater the day before. M was breathing a sigh of relief because she just knew she had ruined her dress. I put the dress in the washer with the Tide Coldwater. No stain remover was sprayed on the dress. I paced the floor and was pleading with the laundry fairy. The washer buzzed signaling the wash was completed. I swiftly walked to the washer and let out a big squeal.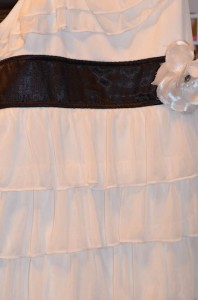 A happy mom and a happy daughter equals perfection. I was so tickled and especially since this was a white dress with such delicate material. We have a new detergent in our household. I am so relieved to have one less step with stains as well. Tide Coldwater Liquid Laundry Detergent is specially formulated to help get clothes clean when they are washed in cold water.
Disclosure: This is a sponsored post. I was sent a full-size bottle of Tide Coldwater from P&G and SheSpeaks. As always, all thoughts and opinions are of my own.