Oh the weather outside is frightful, But the fire is so delightful, And since we've no place to go, Let It Snow! Let It Snow! Let It Snow!……
It was a cold and blustery day, so we enjoyed some great Christmas crafting. This is always a special time with the girls and I. Obviously with work being so busy right now, I want to spend every moment I can with my girls. Time is not slowing down anytime soon.
Crayola ask to partner with the girls and I to come up with some fun Christmas crafts.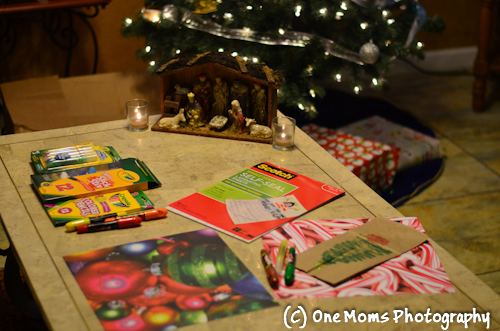 The Christmas goodie bags will be passed out to my family members on Christmas morning. I plan to put in treats that they will enjoy. M and I took the Crayola Slick Sticks and made Christmas trees on the brown bags and then took the Crayola Glitter Glue to make yellow stars. So easy but yet so cute!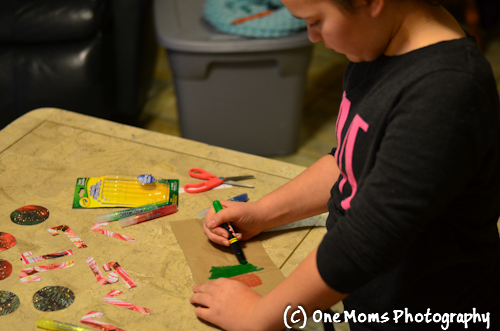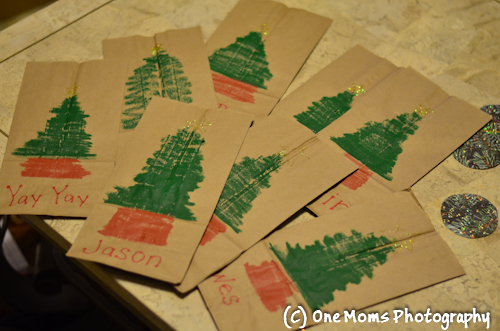 The slick sticks from Crayola are awesome at doing crafts such as these. It glides on so smooth as your are drawing.
Next we wanted to decorate our tree with some more ornaments. Half of our ornaments are packed up in storage so the tree was looking a bit bare. This is not the case anymore. I found Christmas scrapbook paper at the WalMart for only $5 for 50 sheets. SCORE. Then I grabbed Scotch self-laminating sheets for $5.88 and laminated the scrapbook paper. You do not need a machine to use these laminating sheets.
Once the sheets were laminated, I cut-out circles and made candy canes. The girls made their own designs on the ornaments with the glitter glue.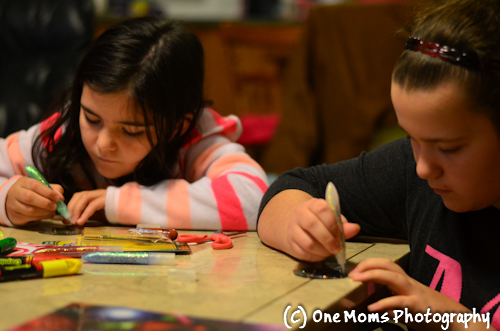 Once the ornaments were dried, I punched a hole in the top of each ornament and put a piece of ribbon through the hole. The ornaments turned out so cute and are hanging with care on our Christmas tree.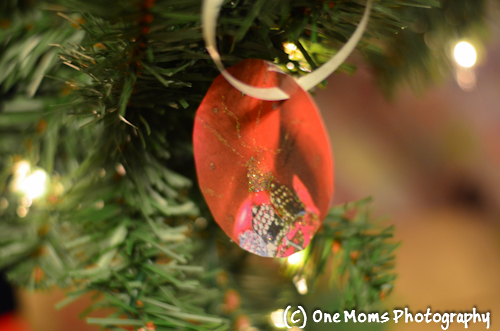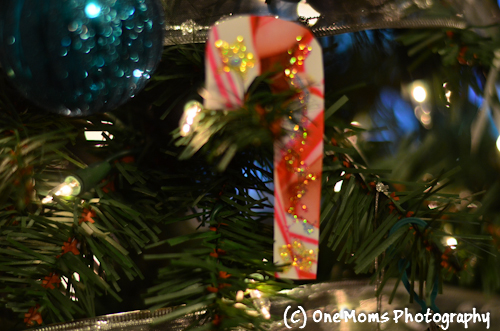 The ornaments will hang with care for many years to come. How would you like to do Holiday crafts with your children?
WIN!
Crayola Holiday Crafting Essentials Gift Pack including:
§  Crayola Washable Markers
§  Crayola Colored Pencils
§  Crayola Glitter Glue
§  Crayola Model Magic
§  Crayola Slick Sticks
– A few crafty ideas from Crayola to serve as Pinspiration for your original creations
– $25 gift card to purchase additional Crayola items for your project
a Rafflecopter giveaway
Disclosure: I was provided a Crayola gift pack. All thoughts and opinions are of my own.