I have exciting news for you on this beautiful Monday!
Disney World is opening a new value resort this month.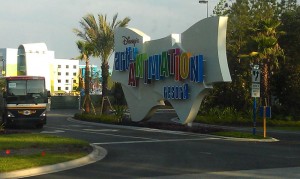 The Disney's Art of Animation will open their first phase on May 31. This phase is the Finding Nemo Family Suites.
During our recent Disney Social Media moms conference, we were able to experience the suites firsthand. First, let me say… this is an amazing resort. I could not believe my eyes when they told me this would be a value resort. Your kids will have a wonderful time. As you walk into the resort, you will be in awe by the decor.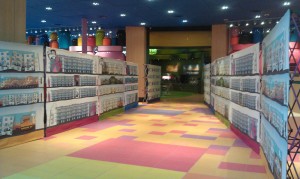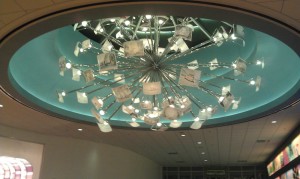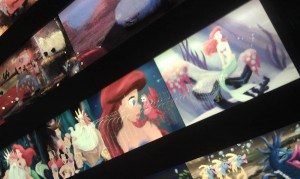 The resort is sharing from Walt Disney and Disney Pixar classics. The hotel is designed magically and appropriately themed throughout the entire resort.
There will be three pools onsite with the largest being in the Finding Nemo courtyard. As you can see, my mouth fell open as we walked out to the courtyard. This was such a dream and we were living it.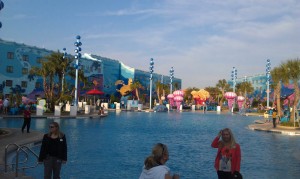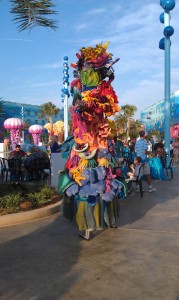 The Finding Nemo courtyard also features a park and a splash zone. My girls enjoyed the splash zone for an entire hour and I had to bribe them to leave the zone. Such a neat addition to the pool.
The paintings and architecture on the resort will grab any child's attention.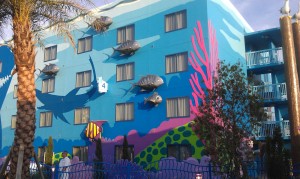 After I talked the girls into leaving the splash zone, we headed into the state of the art arcade. There is a fun game adventure for every age of the family. Even adults can be a little kid again.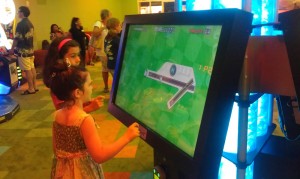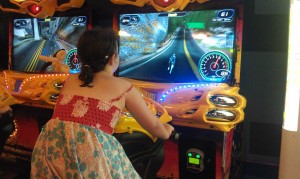 As you can see, your child will not be saying "I'm bored" while you are at the Disney Art of Animation Resort. If you do decide to have some down time though, you will be relaxing in style in your room. Check out these super cool Finding Nemo Family Suites.
As you walk into the room, you will see a dining table. Guess what? The dining table turns into a bed for the kids. Is that not the coolest? My kids were amazed.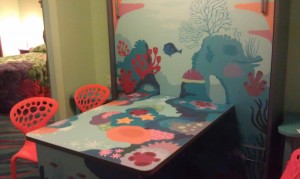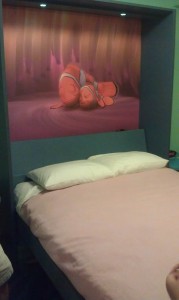 Parents have their own bedroom and bath.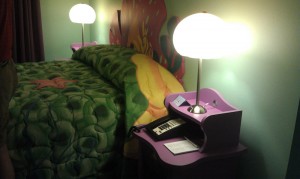 The entire family can enjoy the very spacious living room.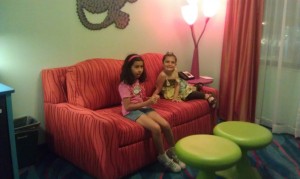 Believe me, you will not be disappointed in the new resort. With 1,120 suites designed after Finding Nemo, Cars and The Lion King, and 864 rooms inspired by The Little Mermaid, you'll feel like you're staying in the middle of a Disney story with all of your favorite characters. Family suites are scheduled to open in May 2012 and standard rooms are scheduled to open September 2012. Here is a detailed listed of opening days:
Finding Nemo Family Suites—Opening May 31, 2012
Cars Family Suites—Opening June 18, 2012
The Lion King Family Suites—Opening August 10, 2012
The Little Mermaid Standard Rooms—Opening September 15, 2012
Until we meet again Art of Animation Resort, we will hold these special memories close to our hearts!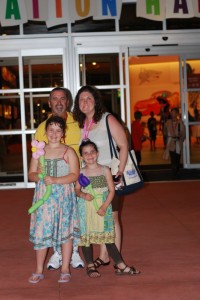 Disclosure: Disney provided a sneak peek of the Art of Animation Resort to my family as part of our conference fee to the Disney Social Media Moms Conference. All thoughts and opinions are of my own.