I love to wear dresses. It is just so hard to find a dress that I really feel comfortable in but I have found my new favorite dress. Seriously.
Have you heard of Fresh Produce Clothing? Oh good, so I was not the only one. I first heard of them from a friend a couple of months ago, but that was the first time I had ever heard of this company.

One day an email showed up in my inbox asking if I would like to review a clothing item from their website. After searching through their website, I was absolutely giddy to do a review of one of their beach dresses. I waited patiently until the package arrived. It arrived on Monday. A perfect way to make a girl's day. I ripped the packaging open and was in love at first sight. I immediately went to try it on and model it for my girls and hubby. I got three thumbs up from them so then I had to go do a full mirror review. I really loved how it fit, how the material felt on me and the quality of the material.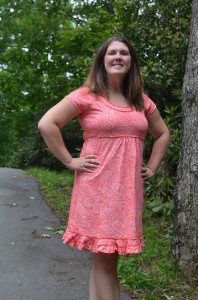 I wore it to our Vacation Bible School and was all over the place in the dress. I was bending up and down doing crafts with the kids, doing singing motions in the dress and all was just right in my world. The dress was just wonderful. After we got home that night, I told my husband – "I have found my new favorite dress."
Check out their site for cruise clothing and casual outfits as well. I can only imagine if their dresses feel this great, how their pants and shirts would feel too.
This dress runs for $64. You are definitely paying for the quality and comfort. I would pay that price because of how thick the material is in the dress. This is not a cheaply made dress and that is worth the money.
Right now, they actually have a deal of the week going on with a sleeveless dress style for only $21.99 I believe I will be adding that one to my wardrobe as well.
Let's hear it… What do you think of my new dress?
Disclosure: Fresh Produce Clothing provided the dress for this review. All thoughts and opinions are of my own.