We are steps closer to the opening of the NC SEA LIFE Aquarium!
This is beyond exciting news. I have been invited to be part of their parent advisory council, so I will be able to pass onto you insider information. The groundbreaking ceremony was last week.
Concord Mayor J. Scott Padgett was joined by Donna Carpenter, President/CEO of Cabarrus County CVB, and other dignitaries to commemorate the construction of SEA LIFE Charlotte-Concord.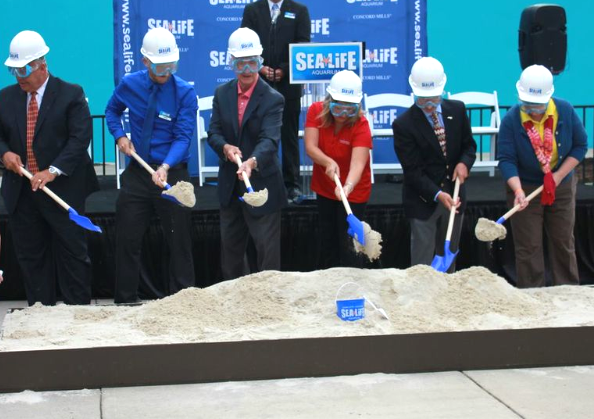 SEA LIFE Charlotte-Concord will open early Spring 2014 with 5,000 marine creatures on view. This is going to be a fun attraction for kids of all ages. Yes, I am talking about the parents too!
One of the awesome things about this new aquarium is it will help books the local economy by creating over 50 new jobs.
SEA LIFE is the world's biggest aquarium brand with more than 15 million visitors a year and 50 superb attractions in Europe, USA and Asia Pacific. This will be Merlin's sixth SEA LIFE Center attraction to open in the USA, and SEA LIFE at Concord Mills will highlight all of the qualities which have gained the brand the support and endorsement of marine experts worldwide. Initial plans call for more than 30 spectacular displays of diverse marine life for visitors to enjoy – everything from shrimp and starfish to seahorses, sharks and rays. In keeping with other SEA LIFE attractions, there will also be a unique element reflecting the Carolinas' location based around the marine creatures most associated with the region.
Finally, the stunning centerpiece will be a huge tropical ocean tank with a walk-through underwater tunnel. We are so excited about this tunnel. Keep an eye on the blog for more aquarium updates soon!