This post is sponsored by Country Crock. I was selected for this opportunity as a member of Clever Girls Collective, and the content and opinions expressed here are all my own.
Do you have trouble getting your kids to eat their veggies? You are not alone. I am right there with you as a parent. My girls will only eat certain vegetables, and as a person that grew up on country living… I just shiver when my girls will not try something new. Thankfully, there is help for us. 8 out of 10 kids think veggies with Country Crock are delicious. You heard me right. Most kids love butter right? I mean, my girls will just eat butter straight from the container if I would let them.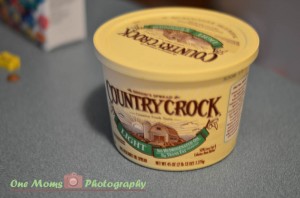 This container has been a staple in our house for a long time. We go through about two containers a month. Craziness right? At least, we do use the lighter version of Country Crock. Country Crock has developed kid friendly veggie recipes. I just had to put one of the recipes to test. I selected the Bear Paws. As I was preparing in the kitchen, M walked in and said mom: "Why are you cooking those for?" I explained to her about creating fun veggie recipes. She replied: "No thanks mom!" I was hoping that she would change her mind once the recipe was finished.
Bear Paws Recipe
Ingredients:
3 medium sweet potatoes or yams, scrubbed clean and sliced lengthwise into 1/2-inch slices
3 Tbsp. Country Crock® Spread, melted
1 Tbsp. grated orange peel (optional)
A pinch grated nutmeg
30 whole cashews
Directions:
Preheat oven to 350°.
1. Arrange sweet potatoes in one layer in a shallow baking dish. Drizzle Country Crock® Spread over sweet potatoes.
2. Sprinkle orange zest (if using) and nutmeg over sweet potatoes. Toss to coat.
3. Bake for 40-45 minutes or until potatoes are tender. Remove from oven.
4. Place sweet potato slices on a serving tray or individual plates.
5. Insert three or four cashews into the end of each potato slices to resemble bear claws.
Have a nut allergy? Simply substitute golden raisins for the cashews.
BEFORE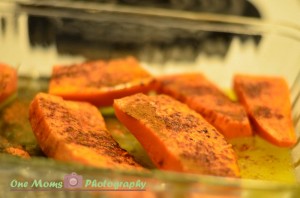 AFTER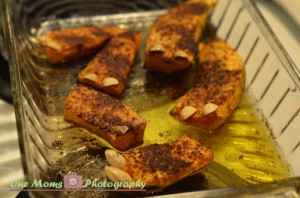 I held my breath (not really, but you get the idea) and called M into the kitchen. She started laughing at my bear paws so I figured this must be one step in the positive direction. I asked her to take a bite and are you ready? She ate the WHOLE paw. One happy mom here! So, that is the trick… make the veggies fun and with Country Crock butter. Your vegetables will go from blah to very awesome. I am a believer now indeed!
We can win you over too, I just know it. Come join in the fun on Twitter.com Tuesday night. The Country Crock Twitter party will take place on Tuesday, April 24th from 7:00 pm to 8:00 pm CST/8:00 pm to 9:00 pm EST. You can get tips and more ideas on making veggies more fun for the entire family. There will be lots of awesome prizes too. RSVP here: A Very Veggie World Twitter Party
Are you looking for more quick and simple tips and recipes to make serving veggies more fun? Download the free Clare Crespo Cookbook here for fun and whimsical recipes your family is sure to love!
Let the veggie fun begin 🙂