The big question of the week was, did the whitestrips really work? I put the whitestrips to the test this past weekend as I wrote in the post. You seen the before picture and now I am back with the after picture.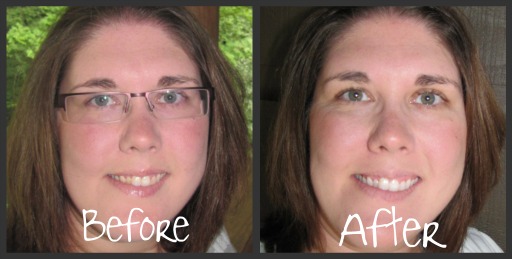 As you can see from the pictures, the product really works. I am seeing I believe about two shades whiter. The coffee stains are gone and the teeth are a bit shiner. I keep looking in the rear view mirror when I am driving down the road as I cannot believe 2 hours really did this. The strips did not slip at all during the two hours either. I am so use to the strips slipping or not staying put whenever I have used them in the past. I actually had to pull the strips hard to remove them from my teeth. During treatment, I was able to go on about my day. They substance on the strips did not drip in any way and I actually forgot about them until my timer went off on my cell phone.
Overall, I am very pleased with the results. I went last year and paid $100 to have my teeth whitened at the spa and got the same result as the strips. The strips are a much cheaper option since you only pay $55 per box and get 4 treatments in one box. Also, do not forget about the coupon that will give you an extra $7 dollar savings.
The suggestion is to wait 3 months in between treatments. I will be marking my calendar and doing the next treatment then. Will you give them a try?
Disclosure: I was given this product for free to review as part of the Crest 3D White 2 Hour Express Whitestrips campaign hosted by One2One Network. By participating, I am also eligible for additional incentives provided by One2One Network. All opinions are 100% my own.