You know how moms often tell their bad confessions? I am going to tell one of mine right now. I am not an organized person at home. I can organize all day with my work but the organization is a big fat fail at home. Don't get me wrong, I keep my house clean but my desk or drawers in the house are very chaotic. Every year, I have the same resolution – be better organized at home.
Fortunately, there is help for people like me. I was honored to meet Extra Space Storage earlier this year at the Blissdom Blog Conference. Very detailed and customer service oriented team members who literally swept me off of my feet to let me take a moment to relax while they packed all my things to ship back home for me. How awesome was that? Huge relief!
Extra Space Storage has over 870 locations to help tame your extra load. Do you have a piano, extra bedroom suit, lawn equipment that just will not fit anymore at your house? No problem, they can help you. Check them out.
WIN!
From now until July 8, you could win gift cards to receipt scanners and even an iPad in the Extra Space's 'What's In Store' game. You can even discover useful organization tips from their professional organizers!
TO ENTER:
Make sure to click this link and you will get to play Storage Wars. You will see this on your screen: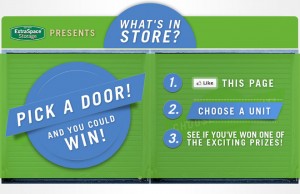 Then you will get to choose a unit which will determine your prize.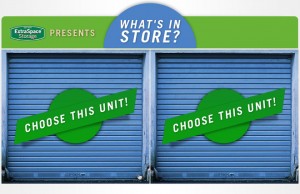 Good luck and I can't wait to hear what you win. Will it be the iPad?
Disclosure: I was compensated for my time by Extra Space Storage in promoting their giveaway. All thoughts and opinions are of my own.