We are heading into a new season that promises to bring happiness and a fresh start on life — spring.
Many households are starting their spring cleaning and revitalizing their homes. How can you raise the bar on the style in your home?
You can freshen and enhance your home décor and wardrobes – without breaking the bank – with the season's must-have accessories, including the new Glade® Limited Edition Spring Collection fragrances for the home. Studies do not have to tell us that a clean and fresh smelling house can put you in a positive mood. It is just a fact that I know in my own life. Try it for yourself. It is amazing how your mood can do a 360 in a matter of minutes.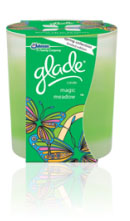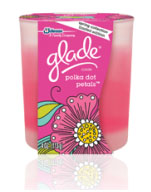 Glade has two new fragrances this season:
• Magic Meadow™ – Revitalizing scents of fresh grass, morning dew and white jasmine
(packaging in green and yellow).
• Polka Dot Petals™ – An invigorating melody of honeysuckle, lily of the valley and pineapple (packaging in bright pink and yellow).
Both stylish and modern, the Glade® Limited Edition Spring Collection fragrances will fill your home with bouquets of fresh aromas to prepare for the blossoming flowers brought about by the changing seasons. The fragrances work with my brain. I smell the fragrances, raise the windows and immediately I am ready to take on the day. It gives me a new form of energy and an overall happier mood. You know what the old saying is: "If mom is happy, then everyone is happy." My husband can attest to this particular saying. If I am in a good mood then the kids are in a good mood since they feed off my mood.
Take time, head to the store, and purchase the new Glade® Spring Collection. You will feel better, your family will feel better and your house will be ready to take on the new style of spring.
Disclosure: This post is in conjunction with a partnership with Glade®. All thoughts and opinions are of my own.