I have struggled with stomach issues for a few years now. My good friend Nan from A Mom Blog has been talking to me about going gluten free to see if it would help with my stomach issues. Her and her husband recently went gluten free after testing and are doing really well with it as a family.
It may or may not have been coincidence when I got an email to review Udi's hamburger and hot dog buns. I was up for the challenge.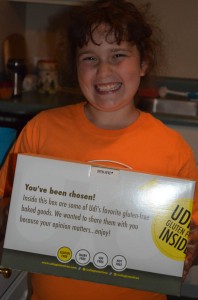 I invited my Mom and Dad over for a grill-out for Mother's Day. I wanted to surprise my mom and dad with Udi's buns, so we all did a taste test at one time.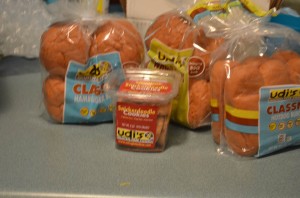 Let me just say, you see the cookies in the picture above? The snickerdoodles were gluten free and so amazing. We had the cookies gone within 5 minutes. Definitely a must-have for your family. They were so delicious that they would just melt in your mouth. Grab a glass of milk and dip the cookie… awesome!
We sat around the table and put the buns to test. The texture was different than we are use to, but it was not bad at all. We all really liked the taste. It actually tasted a lot fresher than most store bought buns. The bread was soft and almost reminded us of sourdough bread. The only thing I would do different, is cook thicker hamburgers. I cooked thin turkey burgers and the Udi's buns are very thick so the bread would overtake the taste of the hamburger. The buns would be simply delish with a thick and juicy hamburger and hotdog.
Overall, I have to say we were very pleased with the taste. If this is how gluten free foods taste, I am saying sign me up. Between the cookies and the bread, we are definitely fans of Udi's Gluten Free Foods.
To get us all ready for summer, Udi's is dishing out some fun on their Facebook page. They are doing their own version of bingo with the BUN-GO game!
BUN-GO is our way of getting fans exciting for summer and giving them the items they need to host a great BBQ. Each participant will get their own BUNGO board, similar to a BINGO board. Each square has an associated task, such as answering a question about your favorite hot dog toppings. Once you complete a row, diagonal, or column of squares (i.e. tasks) you earn points toward Udi's Gluten Free bun coupons and other barbecue essentials. If you complete your entire board, you're entered to win a $500 gift card to one of the following retailers: Home Depot, Williams-Sonoma, or Whole Foods.
Start your summer off right with your own BUN-GO board. I know I am completing a board to see if I cannot snag a gift card. You should too!
Disclosure: Thank you to Udi's Gluten Free Foods for sending me a review box to facilitate this review. All thoughts and opinions are of my own.