The fashion world has just released a cool accessory that you are going to love so much. The girls and I are always needing a hair tie so like everyone else in the country, we usually wear the hair ties around our wrist. How cool would it be to wear an accessory that conceals the hair tie?
Karin Zanella created hairbanglez, giving you a chic way to carry your spare hair tie. Just slip the elastic over your hairbanglez bracelet, and wear it alone or combined with other bangles.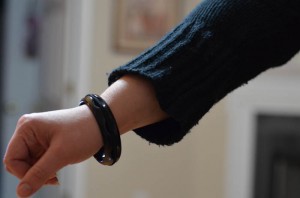 I love the style and size of the bracelet. I have been wearing it for the last week and no one has even noticed that the hair tie is in the bracelet. When I am sitting in class or at the store, I just casually remove the hair tie and put up my hair.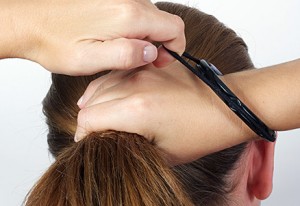 The secret is safe with me. Choose from two bangle sizes: Skinny ($16) and Classic ($20), both available at www.hairbanglez.com. I love wearing the classic size and M loves wearing the skinny size. Karin, you are a genius. I wish I had this fashion accessory years ago, but totally enjoying this new fashion piece now!
Disclosure: I was provided two bracelets in order to facilitate this review. All thoughts and opinions are of my own.