"I participated in a campaign on behalf of Mom Central Consulting for Dunkin' Donuts. I received a Dunkin' Donuts Party Kit to facilitate my review and a promotional item as a thank you for participating."
It is not huge secret that my husband and I are big coffee fans. I blame it on my husband for my coffee addiction. When we first met, I did not drink coffee at all. If you see my husband, he usually has a coffee cup in hand.  75% of the time it is a Dunkin' Donuts cup in his hand. You can imagine where my husband was every morning when we lived in Raleigh, NC. We lived right across the street from Dunkin' Donuts. He misses it for sure.
Once we found out from Mom Central that we were selected to host a Dunkin' Donuts party, we did a big high five to each other. The three flavors that they have launched for their new seasonal line will amaze you. Who would have thought?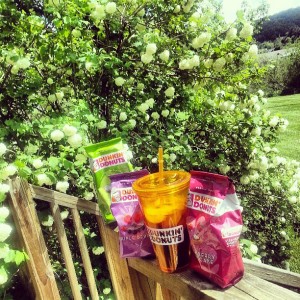 Coconut – Sometimes you feel like fresh coconut coffee flavor. And sometimes, you really feel like it.
Triple Berry – You know what they say, "Three berries are better than one." That's a saying, right?
Strawberry Shortcake – Just one sip of our strawberry-flavored coffee and you'll agree: Dessert should come first.
I was able to gather friends and family and have a fun cook-out. We passed out the flavors at the cook-out and most of the reactions were very surprising. They didn't realize how good the flavors would taste.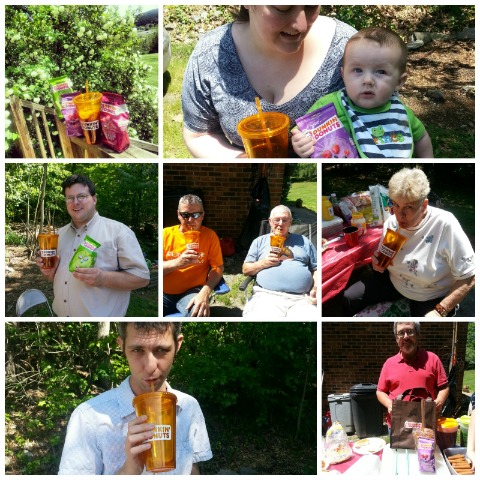 My favorite is the coconut. Coconut is a weakness for me and anything associated with coconut is more than likely a winner. My Dad and Brother are big fans of the strawberry shortcake. This came as a big surprise to me because my Dad always wants to drink his coffee with no flavors.
Since the weather is warmer, iced coffee has become my new addiction. You have to try out this Dunkin' Donuts iced coffee recipe.
Ingredients:
3/4 cup of your favorite ground Dunkin' Donuts Coffee3 cups of cold water, divided
1/3 cup of sugar
1/2 cup half-and-half
Whipped cream (optional)
Directions:
1. Brew coffee in coffee maker using 3/4 cup ground coffee and 1 1/2 cups cold water.
2. Combine hot brewed coffee, sugar and half-and-half in pitcher. Stir until sugar is completely dissolved. Blend in 1 1/2 cups cold water. Chill until ready to serve.
3. Pour over ice in tall glasses or mugs. Top with whipped cream, if desired. Serve immediately.
These seasonal coffees will only be available in grocery stores for a limited time. I recommend purchasing them before they are gone. I think you will really enjoy the new flavors based on my family and friend's reaction. It helps celebrate the warmer seasons too!