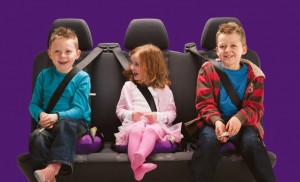 Going on a family vacation on an airplane?
Child going to after school activities?
Child heading to the grandparents house for the night?
One of the first thoughts that goes through your head is – Let me get his/her booster seat! You no longer have to worry about getting the booster seat out of your car with the BubbleBum Inflatable Booster Seat. This is such an cost-effective, portable, foldable and loveable booster seat. As you can see from the picture above, L absolutely loves this booster seat. It is so convenient for us when she is riding car pool with another parent or going to town with my step-daughter or riding with someone to a kid's church event.
BubbleBum was founded by Safekids USA Certified CPST Grainne Kelly from Northern Ireland who, like many other parents, was appalled by the lack of car booster seats available from car rental desks even when booked in advance.

She believes that every child deserves to be protected. Through her research she discovered that some of the main barriers for use of boosters and the lack of information or education available to parents along with the inconvenience of the conventional rigid designs and resistance of children to use a "baby seat".

As a mother of two, Grainne set out to solve this problem while working closely with her children and the children of local schools.

The feedback from a child that now uses our product was priceless! The children helped with the "cheeky" name and the funky color and design, giving reasons about what they like about BubbleBum as opposed to existing rigid boosters:-

They found it easier to carry as it is lightweight and compact.
They were not embarrassed to bring it to school in their backpack, it was cool!
It was more comfortable than the conventional rigid options already on the market
They liked the fact that it was for "big kids"

BubbleBum removed the barrier to entry from children and the inconvenience factor as it is so easy to inflate and deflate for storage. Now Grandmas and sitters can carry one with ease in the glovebox or simply in their purse.
When the seat first arrived for us to review, my first thought was it would be hard to inflate. It inflates in maybe 30 seconds flat. It is that easy. It comes in a very convenient bag to store so it easily transitions with the child from place to place. The size puts L at the right height for her seat belt to hit in the right place. This won me over with safety. The seat is for kids 4 – 11. The booster seat does come with extra shoulder straps to help position your child just right.
It is very hip as well with other kids. All of L's friends have commented on the seat and want one. Too cute! The car seat is available at Target stores all across the country as well as online order from the BubbleBum website.
You can win one now!
a Rafflecopter giveaway
Disclosure: I was provided a BubbleBum booster seat in order to facilitate this review. All thoughts and opinions are of my own.