On the road again, we just can't wait to get on the road again. Our family loves a good road trip. We take several throughout the year. This past weekend, our travels took us to Philadelphia, PA to Digital Family Summit. The trip was filled with so many amazing memories.
Friday night, all the families were treated to a Just Dance Party.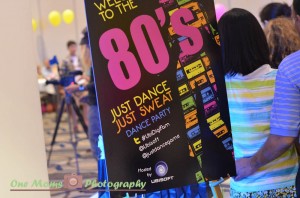 The room was filled with stations to transform back into the 80s. M took on the 80s role very well. She could have totally pulled off living in the 80s don't you think?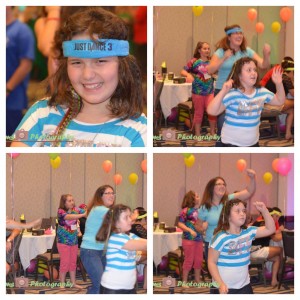 M is my dancing queen. Myself on the other hand, I could use some work with my moves. Although, I did not let this deter me from signing up to a dance competition with M. She was practically jumping up and down for us to compete with each other. We joined a mother/son team and hit the dance floor as you can see in the pictures above. The competition was on and I was determined to achieve a high score for my sweet M. M of course beat me with flying colors but I held my ground better than I thought I would. At one point, my Just Dance 3 sweatband was trying to come off, so I just pulled it off and pitched it to the aside. No distractions were needed for sure.
We did not win, but I believe we either came in 4th or 5th place. The main prize to me was seeing the huge smile on M's face. The expression was priceless. We were in our element for sure.
Just Dance allows a friendly competition and just good ole fun with family and friends. The girls and I play Just Dance quite often. It helps let down your hair to speak and just slip into another world of fun right in our own living room. Bringing my dance moves to a huge dance floor in front of Just Dance themselves, was amazing!
Thank you Digital Family Summit, Ubisoft and Clever Girls Collection for your wonderful hospitality. The night was a huge hit and one we will remember forever!
We absolutely cannot wait for Just Dance 4 and Just Dance Disney to come out this October!