October is all about Pink month. It is a month that everyone comes together and raises awareness about Breast Cancer. Take the time this month and encourage your family members, friends, and co-workers to do their monthly breast exams and schedule their mammograms. Early detection is key. According to Susan G. Komen, A mammogram is an X-ray of the breast. It is the best screening tool used today to find breast cancer early. A mammogram can find cancer in its earliest stages, even before a lump can be felt.
Several retailers take this month and offer pink products. Proceeds from these pink products are donated to Cancer research. Kodak is offering the Susan G Komen Camera.
"Kodak is pleased to offer a uniquely pink camera bundle in our first partnership with Susan G. Komen for the Cure during Breast Cancer Awareness Month," said Richard Ford, general manager for Kodak's digital capture and accessories, Americas region. "Susan G. Komen is dedicated to raising awareness about this worthwhile cause and we are happy to team-up and get the word out to consumers with the launch of the EasyShare C1530 camera bundle."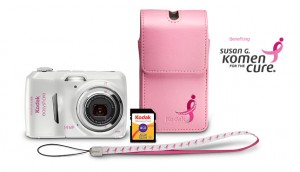 The camera is a one-of-a-kind camera bundle from Kodak featuring a 14-megapixel camera with a 3x optical zoom and a Kodak Share Button in pink, as well as a slim camera case, 4GB memory card and wrist strap with pink ribbons. What's more, $4 out of every purchase of the camera will be donated to Susan G. Komen for the Cure to help fight breast cancer.
One of our readers will WIN one!
Disclosure: I was not compensated for this post. All thoughts and opinions are of my own.