Did you know that moms prefer the Arm & Hammer™ Diaper Pail by Munchkin® 2 to 1 over the Diaper Genie® II? That is correct indeed! An independent research firm designed and managed an in-home test of the two products during June and July 2010. Participants, which included randomly chosen mothers with children in diapers throughout the U.S., were provided with both products to test in their homes under real life conditions for seven days each. Results indicate a clear preference for the ARM & HAMMER Diaper Pail.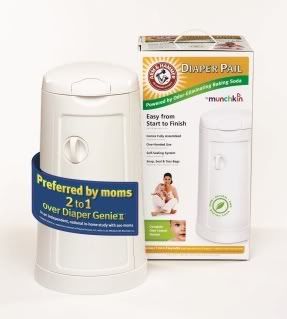 To celebrate this news, Munchkin is doing a fun contest on their Facebook page. They want to hear a story or problem "that stinks!" All you need to do is go to their Facebook page and leave your story. Each Friday from now until Dec. 1, Munchkin will pick a winner from the Facebook posts to have their problem solved and receive an Arm & Hammer Diaper Pail by Munchkin. One grand-prize winner will also receive housecleaning sessions for one entire year, because "Cleaning Stinks! – But the Arm & Hammer Diaper Pail by Munchkin doesn't!" Who wouldn't love that? I know I would!
One Moms World is helping to celebrate as well. We have 5 ARM & HAMMER Diaper Pails to give to 5 readers. All you need to do is leave a comment below.
For Extra Entries:
1. Tweet About This Contest
2. Subscribe to our Feed
3. Follow One Moms World on Twitter
4. Follow Munchkin on Twitter
Contest ends October 27 at 11:59pm ET.
Full Disclosure: Munchkin is providing the 5 Arm & Hammer Diaper Pails for giveaway. No monetary exchange was taken place!