The internet has been fast and furious this week with updates from the CES Technology Conference. Technology is constantly changing and it is not a surprise that companies are captivating the CES audience with all the upgrades.
When parents do upgrade their technology, what happens with the old technology? You can either donate it to a worthy cause or hand down the gadget to your children. I will not lie, I have no shame in giving my girls technology and old technology at that. Let's face it, the future is technology. Kids need to be up on their game but with limits of course. We need to be sensible about technology and not just let kids have a party with the gadgets.
PBS released tips this week on how parents should prepare the gadgets before passing them down to their child.
1. Sweep it: All devices should be cleaned of any content including personal files, credit card information, etc. before handing down to kids. Parents should swipe all their browser "cookies" and perform an application sweep.
2. Secure it: There are parental controls on most tech devices that can turn certain features on and off. Settings on the iPhone, for example, that can be restricted include explicit song titles, Internet browser, YouTube, iTunes and the camera.
3. Set limits: As with any new toy, parents should set expectations and limitations with their kids when the device is handed down, and should encourage other forms of learning and play beyond the screen.
4. Find the right apps for your child: A good app is the perfect combination of education and entertainment, and should be appropriate for your child's age and stage of development.
5. Avoid apps that try to sell: Apps labeled "lite" or "free" often attempt to make money by trying to sell virtual items while a child is playing a game, or link to another related app that requires payment to download. Select apps from trusted, reliable sources, and make sure that they are not trying to market to your child.
Here are some of PBS KIDS' recent top apps for mobile devices which can be found on pbskids.org/mobile: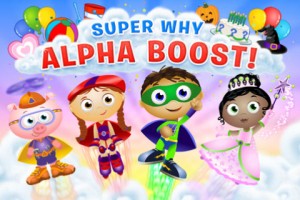 – FETCH Lunch Rush for iPhone/iPod Touch, Free (PBS KIDS First augmented reality app)
– SUPER WHY Alpha Boost for iPhone/iPod Touch, $2.99
– SID Science Fair for iPhone/iPod Touch, $2.99
– LITTLE PIM French and Spanish for iPad, $2.99
My girls have used all of these apps except for the LITTLE PIM. I trust PBS and love how they encouraging learning and fun with all their apps.