As my readers know, we travel to Florida frequently. My husband's family lives there so that is one reason we travel frequently, but the other reason is we love visiting Florida. One of our destinations that we thoroughly enjoy is the Orlando/Kissimmee area. We have stayed in several hotels that we absolutely have enjoyed, but it is nice when traveling with extended family members to have a choice that will give you more room. We were able to experience this with a recent stay in Orlando, Florida with Global Resort Homes. You will want to read all the way to the bottom of this post for an awesome giveaway!
From our first emails with their marketing team, I knew we were in professional and great hands. All my questions were answered with grace and very detailed. Also, they were very willing to get on the phone and talk as well. Customer service really plays a positive role in today's society. So many companies only look at the bottom dollar and forget that people like to be treated with respect. Believe me, Global Resort Homes will go the extra mile for you.
As we drove the 10 hour trek to Florida, we were so ready to walk in and just relax. We were greeted with an amazing house. It really is your home away from home.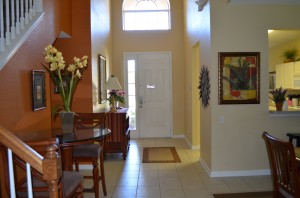 It was just so nice to walk into a beautiful decorated home with so much space and know you can just relax the entire time with your family. This particular house had 5 bathrooms and 4 bedrooms. There were two master bedrooms downstairs complete with their own bathrooms. Hubby and I both agreed we have not ever slept so soundly as we did while on vacation here. The beds are absolutely refreshing and so welcoming for a great night's sleep.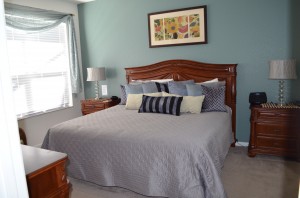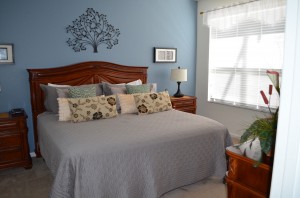 There is also a third bedroom downstairs with a bathroom attached.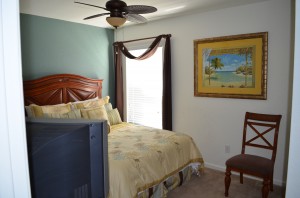 Each bedroom has it's own television so there is no fighting over the show. Even though, with all the family and the pool outside, there probably will not be much television time unless late at night.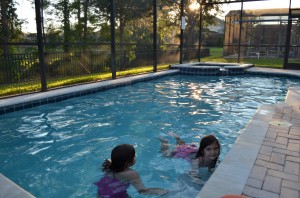 Also, the home comes complete with an awesome game room. See, I told you, who has time for television? The girls were having a blast with foosball while my husband was enjoying playing pool with family.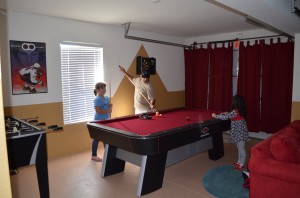 Upstairs includes two more bedrooms which one room is dedicated to Mickey Mouse. You are in the land of Disney after all.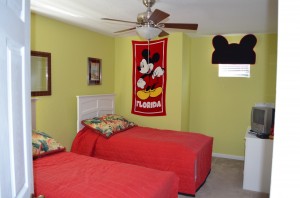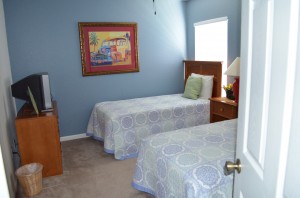 The living room is spacious and has plenty of room to catch your Sunday football game with an afternoon nap on the sofa. Just speaking from experience!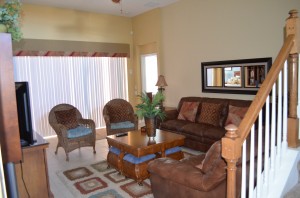 One thing that is hard to do when you go on vacation and stay in a hotel is cook meals. You can spend so much money each day in meals. If you stay in a vacation home rental, then you are able to cook your own meals and save money. The kitchen was very spacious and you either had a choice of the dining room or sitting out by the pool with a huge table. We opted for the outside table most times to take in the beautiful sunshine but it was nice to have a full dining room for everyone as well.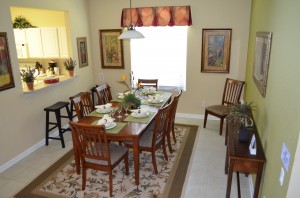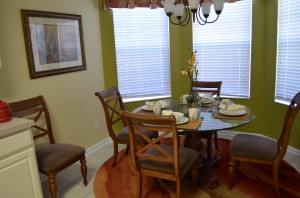 Global Resort Vacation Home Positives:
* Only 10 to 15 minutes from the Main Gates of Disney
* Very quiet neighborhoods
* Great for extended family vacations
* Resort Parks with Clubhouse Activities
* Security Alarm
* Security Guards at the Gatehouses
* AWESOME Customer Service
As you can see, we were very impressed with our stay and very much recommend a vacation home rental for your next family vacation. Speaking of next family vacation… You can WIN accommodations for your next vacation right here!
GIVEAWAY
One lucky reader is going to win a 3 nights/4 days vacation rental from Global Resort Homes. Your home will be of your choice from a 2 -3 bedroom condo or townhome. You will select your dates. The vacation needs to be before December 20, 2012. Blackout dates include: March, April, June – August 15.
ENTER:
It is very easy to enter to win.
a Rafflecopter giveaway
Follow Global Resort Homes on Facebook to stay updated with all their latest news and deals.
Disclosure: Global Resort Homes provided us with a Vacation Home Rental for our stay. No compensation was given. All thoughts and opinions are of my own.