Congratulations to comment#22 – Katherine. Check your email!
My childhood brings great memories of having a Holiday tin can of popcorn around throughout the Christmas season. The tin would be the go-to snack every single night and my parents would replenish the tin once it was beginning to run low. Who knew that the popcorn tin tradition started back in 1929 by Topsy's Popcorn?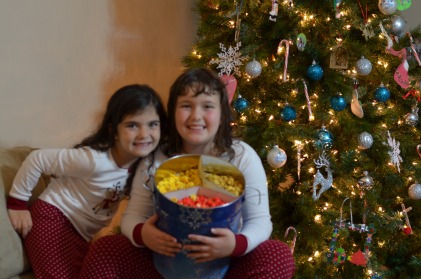 Since 1929, Topsy's has used an original recipe that gives its popcorn an old-fashioned great taste. Back in the day, the oil used to pop the popcorn came in the tins, and Topsy's decided to recycle the oil tins to package up and deliver popcorn. Pretty interesting right?
On TopsysPopcorn.com, you can choose from a variety of popcorn tins as well as flavors to quickly and easily find the perfect gift for a variety of people your gift list, from family members to co-workers, a child's teacher, neighbor, friend, or all of the above!
We were sent our very own tin to taste test and oh my word! Have you ever had cinnamon popcorn? I have a new favorite popcorn now. I never even thought about combining cinnamon and popcorn together, but it is an amazing flavor. I will go ahead and tell you, don't try to eat just one piece. You will continue to reach your hand into the tin for sure. Just like when I was a little girl, the girls have been eating the popcorn as their bedtime snack. I sit back and watch them and just beam. My childhood traditions are being passed onto my girls. Their favorite is the caramel popcorn and cheddar cheese popcorn. We have been crowding around the TV and watching Christmas movies and Christmas specials all the while snacking on popcorn. We will cherish these memories forever.
YOU can do the same. Topsy's has generously offered to give a Holiday tin to one lucky reader. If you don't want to wait to see if you win and would like the popcorn NOW (I don't blame you), then use this special code Topsy01 till December 12, 2011 and SAVE $3 off per tin. Click here to place your order.
WIN!
To Enter:
Leave a comment and tell us your favorite tradition you like to do with your kids during the Holiday season.
Extra Entries:
Tweet about this giveaway.
Post about this giveaway on Facebook.
Subscribe to our feed.
One winner will be drawn randomly. Contest ends December 10, 2011 at 11:59pm ET.
Disclosure: We were provided a tin in order to facilitate this review. All thoughts and opinions are of my own.