Since I have been keeping busy in the airports the past two weeks, two special toy sets arrived on our front door to keep L happy and busy. She is not a fan when mommy travels so imagine my surprise when she called my cell phone all excited about her new Polly Pocket toys. SCORE!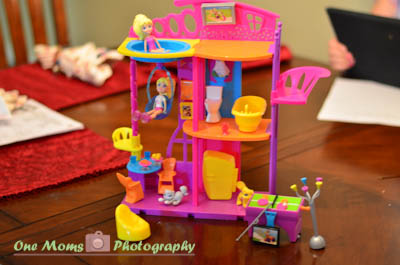 Polly Pocket recently launched a new line of small dolls and play sets that continue to offer delightful and unexpected surprises. L has always been a fan of small toys and miniature houses. This new line was perfect. The size of the toys fit right into her hand. This is really great for the 5 to 8 years old age group. Although, my 9 year old M loves to hop right in and play with her sister. There is so much technology around that sometimes I feel that kids do not get the adequate chance to use their imagination. Listen, I am a huge fan of technology but there is such a thing as an overload. Kids need to be kids and use their imagination and play with toys that do not require batteries or technology.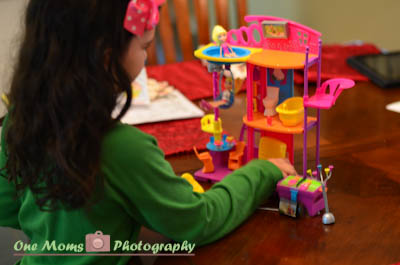 In response to feedback from moms and girls, the popular doll line now features a new Stick 'n' Play innovation – suction components that ensure a Polly piece won't get lost again. This has been a lifesaver for L. She is able to transport the Polly Pocket Hangout House Playset from room to room and even bring it along for a long car ride. This makes for a happy mom and child.
L can play for hours with her playset. I will sneak in on her and M playing house with the set. They really use their imagination and it is so much fun to hear them do activities that I do as a mom. They give the elevator a run for it's money each time they play with the set. It really is very durable and piece I am comfortable recommending to other parents.
Have you heard of the new Polly Pocket line? You will not be disappointed. I think this will be a hot item for Christmas so you may want to get a head start.
"I participated in a campaign on behalf of Mom Central Consulting for Mattel Polly Pocket. I received a product samples and a promotional item as a thank-you for participating."