Toothbrush time can come with lots of fights and tears unfortunately. Even though, I have always pushed toothbrush time and good teeth hygiene, my youngest still likes to put up a fight. Knock on wood though, I believe we may have found a way to decrease the meltdowns and tears. Let's get silly with the Tom's of Maine Silly Strawberry Toothpaste.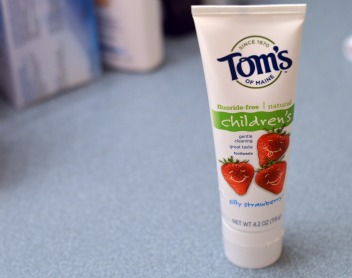 Each morning and night, we create a silly song and use the toothpaste. Both girls get such a laugh out of the time and they get their teeth cleaned at the same time so it is a win-win all around. It is obvious that I did not look closely before what exactly was in the toothpaste we were using before. After taking a glance at the ingredients of their other regular toothpaste, I was caught way off guard. Tom's of Maine Silly Strawberry is the first and only natural kid's toothpaste to receive the American Dental Association's Seal of Acceptance for its proven effectiveness. With no artificial dyes or sweeteners, Tom's of Maine Silly Strawberry toothpaste gets its naturally sweet flavor from real strawberries. The girls commented on the flavor the very first time they used the toothpaste. Both agreed it was a pleasant taste.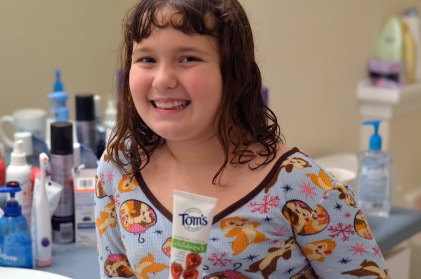 It is safe to say both girls have made the switch permanently over to the Tom's of Maine toothpaste. I even brushed my teeth with it to see the flavor and was very surprised by the great taste. It was no wonder the girls enjoy it so much. Another positive is that Tom's of Maine donates 10% of its profits from all sales back to the community to help people and the planet.
Tom's of Maine Silly Strawberry toothpaste is available at retailers including Target nationwide with and without fluoride. Would you like to get a sample sent to you for free for your kids? Click here to request your free sample, but hurry supplies are limited.
Speaking of Target, we are going to make sure you are able to purchase and do the toothpaste swap with your kids with our $100 Target Gift Card Giveaway.
Enter:
Disclosure: This post is sponsored by BabyCenter in conjunction with the BabyCenter Blog Network. All prizes and compensation are provided by BabyCenter. Product samples provided by Tom's of Maine.