Technology gifts are high up on the list of all the tween and teens of my family. Old Navy is helping out parents this year with their debut of the Techno World collection. This collection is already a hit all over the United States. The line features clothing and accessories with built-in technology as well as a wide range of technological gadgets. All priced to please any budget-conscious shopper, Old Navy's Techno World items appeal to gadget geeks of all ages on the holiday shopping list this season. Techno World products range from $6.50 to $34.94 and are available in all Old Navy stores in the US and Canada through the end of December.
Check out the Techno Hoodies. At first, I just could not understand how the ear buds would stay in place on the hoodie until one showed up on our door step courtesy of Old Navy.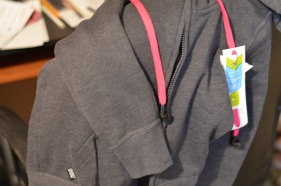 The hoodie has a fleece lining so it is soft to the skin's touch. Your music player or smart phone will run from the pocket through the trim to the drawstring. The hoodie is getting 5 star reviews so we had to put it to test ourselves. I am amazed at the quality. I even think it is a genius idea for runners during the cold weather season.
Mini laptops are all the rage among the tween and teen crowd this year. Old Navy has puffy laptop cases so your tween or teen can be hip and keep their laptop safe.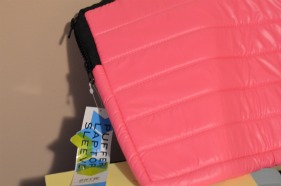 The case has a zipped top and a quilted exterior. The case is very soft and fits a 10-inch laptop perfectly. Also, the case comes in colors that your child will not frown upon.
Head on over to Old Navy and grab these awesome last minute techno gifts. Your tween or teen will be very happy you did :).
Merry Christmas!
Disclosure: We were provided a hoodie and laptop case by Old Navy. All thoughts and opinions are of our own.