V8 has come out with a new Energy Drink – V8 V-Fusion Sparkling.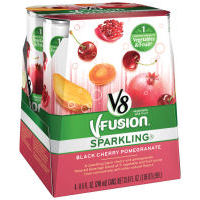 The great thing about these drinks are that they are made with 1/4 vegetables and 1/4 fruits. So many energy drinks are filled with non-healthy ingredients. There are no worries about this drink as they do not have the unhealthy ingredients.
There are only 60 calories in each 8-ounce can. The sugars in each can equal between 11 – 13 grams. The good thing about the sugars though… all the sugars are straight from the fruit included in the drink. There is no added sugar, artificial colors or preservatives. This is what I am talking about now!
I first tried these drinks at the Blissdom Conference in February of this year. I could not believe the taste. I had to get my friends at the conference to taste their drinks and actually talked them into giving me their extra drink. Seriously, the drinks are that good!
My precious M wanted to do a taste test and much to my surprise, she really enjoyed the drink as well. M and L are not real big vegetable fans, so this helps them get in the extra vegetables and fruit in their daily diet.
Available Flavors:
* Black Cherry Pomegranate
* Strawberry Lemonade
* Tangerine Raspberry
I love the fizz from soft drinks, but of course do not drink them often because of the calories and sweetners. This is a great alternative with just enough fizz, great taste and ingredients that you do not have to be shameful about.
Would you like to taste the flavors too? You are in luck!
WIN
One lucky reader is going to with a V8 V-Fusion Sparkling gift pack. Including: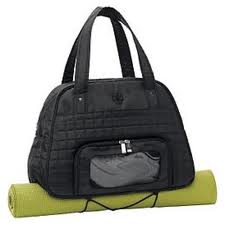 * V8 V-Fusion Sparkling
* Gaiam Yoga/Gym tote with an easy-reach outside pocket for your refreshments (This bag is coming in so handy with my 5K Training.)
* A Philosophy Raspberry bubble bath to add some refreshing bubbles to your bath
* A $25 Sephora gift card to help you sparkle inside and out
* An Essie nail polish to add some sparkle to your nails
* A versatile to-go cup so you can quench your thirst with an iced V8 V-Fusion Sparkling on-the-go
ENTER
a Rafflecopter giveaway
Stay up-to-date with the latest V8 V-Fusion news on their Facebook page.
Disclosure: I was provided a gift pack from V8 V-Fusion in order to facilitate my review and as a thank you for my time. All thoughts and opinions are of my own.