My daughter-in-law is taking the stage today to give her full review. Ashley take it away!
We have been using the VTech Baby Monitor VM333 for roughly 2 weeks and I must say it is the best monitor we have ever used. I was amazed at how quiet the monitor is. There is virtually no air noise as the monitor goes completely silent when there are no other sounds besides ambient room noise. In fact, I often pick it up just to make sure that the sound is working. Other great features include:
• The pan, tilt and zoom feature is great. I have a 15 month old that moves constantly throughout the night. I love that I can change the angle of the camera from the convenience of our bedroom. I was amazed at how I can actually see completely around her room and that the camera does not make any noise while doing so. This feature will become very useful as our daughter transitions into a toddler bed and starts playing in her room on her own more often.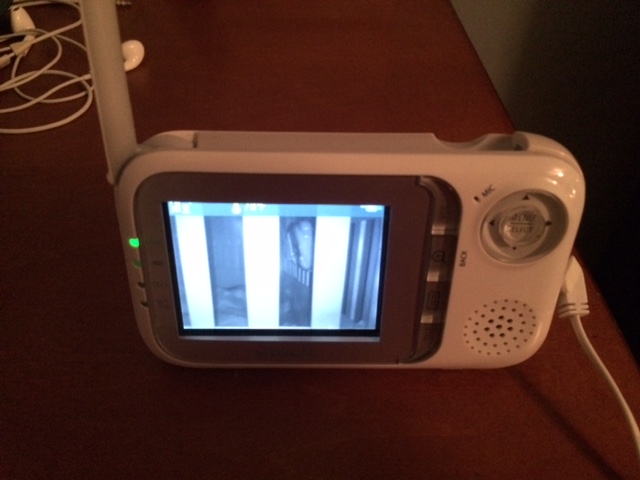 • Installation is simple. We had the monitor set up within 10 minutes and were able to figure out all the features within another 10 minutes, even without reading the manual.
• The camera can be easily mounted to the wall, but also stands very well on its own on a dresser or nightstand.
• The range is great as my daughter's room is on the opposite end of our house. The sound is always clear.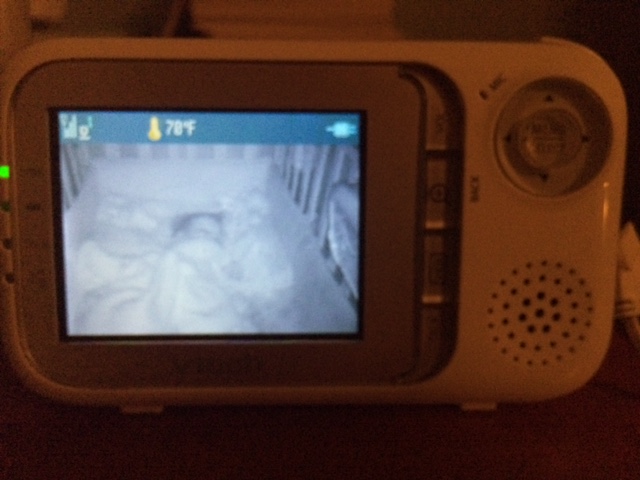 • The two-way intercom is a feature that is actually useful and doesn't seem like something that was included as a "junk" bonus. It works well as if VTech made it a point to make this a useful feature.
Cons:

• Temperature sensor: It is always a few degrees warmer than the actual room temperature. While this isn't a huge deal, I would expect the temperature to be accurate if I were using the alert setting if the room goes above or below a certain temperature. We have used much more basic models that display the temperature accurately.
• Image quality is not HD, but it isn't much of a negative since we don't have experience with a better monitor in this price range.
Overall we are very happy with the value this monitor provides and would definitely recommend VTech to our family and friends!
Recap of the key features of the VTech camera:
Pan, Tilt, and Zoom: Watch as your little one moves about. The camera pans up to 270 degrees side-to-side and tilts as many as 124 degrees up and down. Need more detail? The camera zooms up to 2x.
Multiple View Options: System supports viewing of up to 4 total cameras from one parent unit. Viewing modes include single view (one camera only), split view (cycles through cameras on single view before stopping on split view) and patrol mode (single view that transitions to a different camera every 7 seconds).
High-resolution 2.8-inch color LCD: Never miss a smile with the high-resolution, 2.8-inch color LCD.
Full-motion video: With up to 25 frames per second, you can see your child's every move on clear, dynamic video.
Automatic night vision: Two infrared LEDs and a low-lux camera automatically detect dim light, providing clear video even in dark rooms.o Talk-back intercom: Sometimes all your baby needs is to hear the sound of your voice. Comfort your infant from any room with the built-in intercom on the portable parent unit.
Join me for a Twitter party to learn more about this amazing product and to chat about general baby and child safety tips!
When: Wednesday, February 18 at 1 p.m. ET
Where: We'll be on Twitter – follow the #VTechBaby hashtag to track the conversation. You can see the details and RSVP via this Vite: http://vite.io/themotherhood
Hashtag: #VTechBaby
Prizes: During the party, we will be giving away five nursery safety baskets featuring VTech Safe&Sound® Pan & Tilt Full Color Video Baby Monitors to randomly selected participants who answer the trivia questions correctly. Prizes limited to U.S. participants only.
Hosts: @TheMotherhood, @TMChatHost, @CooperMunroe, @EmilyMcKhann
This post is brought to you by VTech and The Motherhood. All opinions are my own.