These past few months, I have really put in some hours working to help keep our family afloat. Even though I have been a work at home mom since early 2003, it doesn't mean we are eating bon bons all day ;). You are actually trying to keep up with work and your family. So essentially it is two full time jobs.
Well this weekend, was my full weekend off. I shut off the computer from reality and just spent time with my family. I stayed away from the computer so I would not get sucked in. I needed this reconnection with my family and disconnection from work. Let me tell you it felt sooooooo good. I would look over and see my computer screen black and it just would bring a smile to my face :).
Friday night we celebrated my big girl's 6th birthday with just the family since she had her friend party last weekend.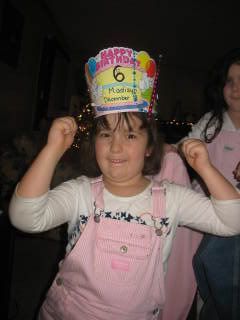 Here was her cake from her friend party. I bet you can't guess what it is? 😉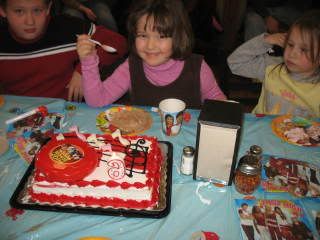 And mommy dearest here made the family cake. Let me tell you… It was a fat free cake from a recipe I had from weight watchers. It was a HUGE HIT. Madisyn would not even eat her birthday cake from last week and she ate 2 big slices from her mommies. What does that tell you? 🙂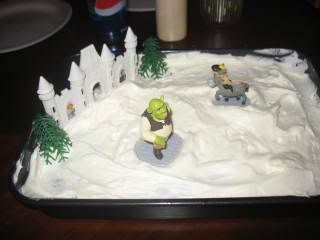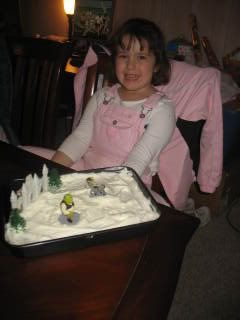 All in all, I think she had a wonderful birthday. She said it was the best. That definitely warmed my heart :).
Saturday, we headed out with a BFF and did some last minute Christmas shopping. It was sooooo crowded but so worth it to get away for the day and just relish in the wonderful Christmas Spirit. We all had a good time I believe.
The night was ended with my little family all curled up on the couch watching the DVD Christmas Shoes. We all did not move the whole movie. It was intense but really great movie to watch this time of year. I just love my little family.
Sunday was spent just baking goodies for the big Christmas day, cooking a deer roast that my hubbs was oh so kind to get for us this week ;). It turned out delicious. We ended the night with going through our town's resort of Christmas lights.
You know I feel like my family needed this reconnection from mommy working so much. We need to unglue from the online world every once in awhile and just focus time on our families. They need us more than the online world needs us. Don't get me wrong, I LOVE the online world and do miss when I am away. It's just good to take a break as well.
Merry Christmas to all my online buddies. I do love you all and Hope you all have a wonderful Christmas filled week!