Oh boy are the tantrums going full strong in my two year old. It's definitely her way or you better take your ears and hit the highway.
For example…. she wanted my camera this morning to take pictures. She loves taking pictures. They are ummm let me see very abstract… half of the couch, mommy's foot, daddy's butt (LOL), top of the door, the kitchen cabinets. What do you think I have an artist on my hands? Well we like to think so 🙂
This is what I got when I wouldn't let her have the camera this morning: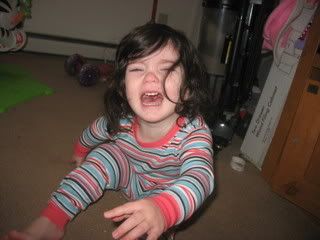 On the way to take my 4 year old to preschool this morning…. here is how it went in the van.
2 year old: Mom sun in eyes
Mom: Ok sweetie and I tried to block the sun from her
2 year old: NO WAY PLEASE :::screams:::
Mom: Ok I will not block the sun from getting to you then.
2 year old: Proceeds to kick the seat, scream, being loud.
Mom: Ok… that is enough missy. We don't need to be like that, its not nice.
2 year old: :::calms down and calmly says::: HAHA mom I funny.
Oh my do I have a drama queen on my hands then. She was making the whole tantrum up. TOO FUNNY… well not at the time, but now that I look back on it. I wouldn't trade her for the world 😉