As you know, I have been discussing about first period talks. This is a time where one-on-one interaction is really needed. Our daughters really depend on us to be there for them through everything but this is a time when it really needs extra care added.
How can you help your daughter be prepared each month?
There is an app for that…
For the past few months, I have been using an app on my phone called My Days. It is a very discrete app that is on your phone with a flower icon.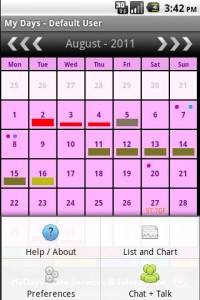 Since most teens have a technology device, this will help girls keep track of their monthly periods. All you have to do is click the date your period starts, and the app will do the rest of the work. It really is easy to use and such a great safe of mind.
Kotex also has a personal period tracker on their site that will help you track your period and much more.
With the Personal Period Tracker, you can:
– personalize, save and update information about your cycle.
– see the dates of your periods plotted on a calendar.
– indicate whether your flow was light, medium or heavy on a particular day.
– enter notes about changes in your cycle, mood and how you feel.
– print your personalized calendar and notes.
Encourage your daughter to use a tracking source so she will not be caught off guard each month. Also, talk with her about signs that she can look for that usually alerts the period is around the corner.
I highly recommend the U by Kotex as a great resource as well when talking with your daughter. It is a good resource for products, view polls and get advice from other moms and daughters.
I wrote this review while participating in a Brand Ambassador Campaign by Mom Central Consulting on behalf of U by Kotex Tween and received products to facilitate my post and a promotional item to thank me for taking the time to participate.