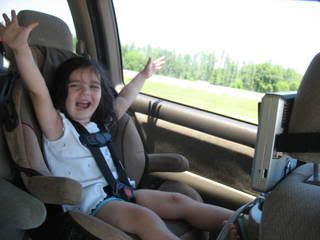 Oh… Oh… Oh…. Look at that smile. Doesn't it read all over that I have my mommy and daddy wrapped around my finger.
I will admit she is our little comedian around here and is always making us laugh. Last night was well laughing and thinking oh my gosh where did she get this attitude from hehe.
We were at walgreens and it was time to load back in our van and she decided she was going to do a little dance and not get in her car seat. Daddy said firmly, Lyndsee get in your car seat now. She replied with "Daddy do not use that voice with me, that hurts my feelings"
Hubbs and I both looked at each other in amazement and started laughing at the same time to where she couldn't see us though. She did get in her car seat after a little talk!
Then while we were driving down the road, we had to stop at the bank. She proceeded to say to us: The bank is boring times, I would rather be checking the mail! What the heck… where did she come up with that now LOL. We were laughing and she yelled out.. Yeehawwww… Ride em cowboy and started swinging her arms.
That's our little three year old with some spunk HA!