Great news was released today to Verizon Wireless subscribers. If you are on the "More Everything" data plan, then your football season will be filled with more game footage than you ever imagined thanks to Verizon!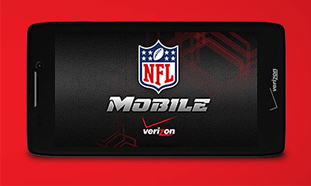 NFL Mobile, a versatile app that's proved instrumental in preparing fans to draft and track fantasy football teams, will now offer Verizon customers on MORE Everything data plans free access to exclusive features – to include live games – streamed to a smartphone.
The app is free to download but has traditionally offered premium video content to Verizon Wireless customers for $5 monthly access. For the 2014-2015 season, MORE Everything customers will have free access to Sunday night, Monday night and Thursday night games, as well as Sunday afternoon games in the local market. MORE Everything customers will also be able to access the NFL Network 24/7. For an additional $1.99 per month, customers can access NFL RedZone to see a compilation of game and scoring highlights. Verizon customers with different data plans can access NFL Mobile premium content for $5 per month.
"Each year we're seeing things like fantasy football grow in popularity, and being able to watch games on the go, check scores, make changes to line-ups from a smartphone has become an essential part of fans' game plans," said Jerry Fountain, president for Verizon Wireless in the Carolinas and Tennessee. "We've seen usage of NFL Mobile grow, and we feel the anticipation for the season building, especially as we talk with customers about this new benefit for football fans."
For fantasy football enthusiasts, the app helps them keep up with team news, final scores, highlights, scoring plays and fantasy line-up reminders. The app also sends notifications when a player is injured, providing fantasy-league members time to adjust their line-ups for the upcoming week.
For more information about NFL Mobile, visit VerizonWireless.com/NFL.