Let's face it, technology is only going to get stronger as the days go by. We can either embrace it or turn away from it. My view is to embrace it but set limits. This is what I love with the VTech InnoTab 3. You are able to set limits for your child. We were so excited to receive this tablet to review.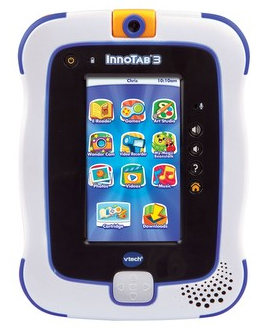 I asked my girls what they loved best about this tablet. M responded with:
She likes having separate accounts. Her sister can have her favorite games, pictures and music while M has her favorite files. M really liked the option of making your own greetings. She was able to personalize it to her own style.
L responded with:
She loves you can take pictures with the 180 degree rotating camera. Also, she is able to read e-books.
•The InnoTab® 3 combines educational games, creative activities and reading skills in a child-friendly, multi-function, touch screen tablet to make learning fun.
•Compact and lightweight design with 4.3" color touch screen, new directional pad and tilt sensor
•2.0 megapixel, 180° rotating camera with more than 55 photo features and special effects
•Your child can even embark on fun, educational adventures with their favorite characters such as Doc McStuffins®, Sofia the First® and Jake & the Never Land Pirates.
The size is another great feature it is great for our grandson (almost 1) to hold in his hands. Also, the outer shell is great for the unexpected drop accidents.
The tablet comes with 16 different apps and then you are able to more downloads from the Learning Lodge. Also, since we are huge music lovers, we were able to import our music onto the tablet and L plays the music at night as she is going to sleep. The tablet helps with all subjects which is a plus for parents. Kids are playing but learning as well.
Two stylus' are included with the tablet. This allows you full function with the apps.
You don't have to worry about running through lots of batteries as you have a choice of AC adapter or rechargeable battery pack.
Even though lots of learning is involved with the tablet, the apps allow for your child to be creative. The WonderCam includes over 55 photo effects. The girls spent an hour over the weekend being creative with pictures. You are able to download the pictures via a USB cable, so you don't have to worry about losing their beautiful artwork.
Overall, I was impressed with all this tablet can do and for the price. It's available for $69.99 on the VTech website. A price point that will not break the bank and comes packed with so many features. This would be a great birthday or Christmas gift!
You could WIN one now!
Disclosure: VTech gave us an Innotab 3 in order to facilitate this review. All thoughts and opinions are of my own.