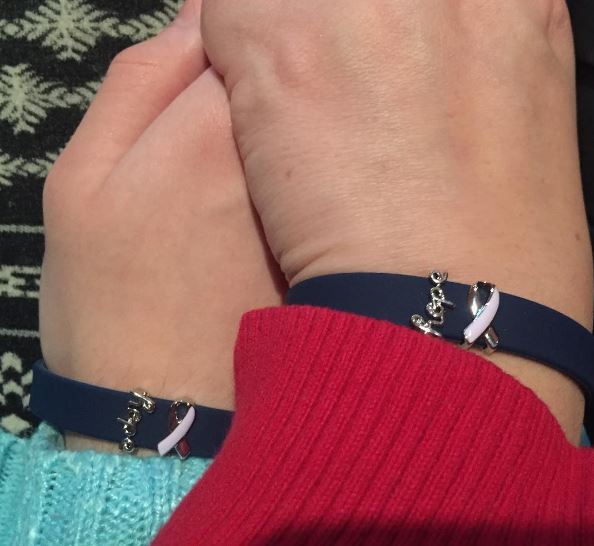 Our matching bracelets from Keep Collection are my favorite. It is our daily reminder to never give up hope on a cure.
We survived the holiday season. I didn't bake any traditional Christmas delights or any Christmas meals. We focused on spending time together as a family and remaining positive. We are coming up on a year of L's initial food impaction that led us to her diagnosis of eosinophilic esophagitis.
I wasn't quite sure how we would make it through the first year, but we did it with God's strength, prayers, and encouragement from friends in the EoE community. Going into this health journey, my mind was swirling with so many questions. Now, I am able to help other families. We obviously do not have all the answers as L has yet to confirm her first safe food. She has her fifth scope this Thursday to determine if we can for sure say pears is a safe food. Going into this scope, I'm remaining positive that she is going to have a clean scope. L has not had any major reactions or symptoms, so we are believing this is going to be a good news scope.
Food trials are hard. You get into a safe zone of no symptoms and want to just stay there because of fear of adding new foods and the symptoms return. Our goal is to try and add more foods this year. L has tried a couple foods but didn't really make it past day 5 or 6, so her allergist confirmed we should just stick with one food trial at a time instead of trying to double up on foods. The sad news is a endoscopy has to be used each time to confirm or deny a safe food. Hopefully with research this year, there will be an easier way to check on the esophagus. Each time L has an endoscopy, she has to be put to asleep so you can imagine her anxiety about scope days.
We will let you know how the scope goes on January 12 and figure out which food we will trial next. L has almost lived on a prescription formula to keep her alive for a year. My  husband mentioned to me tonight, he doesn't know how she continues to drink the formula (usually 7 to 8 boxes a day). The formula does not have a great smell, but with her endurance and strength, she drinks to boxes.
I continue to say she is a such a strong and brave child!