YES!! We made it back home here in NC to visit family for a week. We got in at 5am Friday morning. My whole mood has changed. I'm so happy all the time and cannot wipe this smile off my face being here with all my family. I love it so much.
The girls are having so much fun with all the family as well and Madisyn has made it know MANY OF TIMES that she does not want to go back to Florida. It really hits home when she keeps saying but mom this is our home. This is where our family is :(. It really got me thinking, in Florida we don't have anyone there and when we were in NC we were always doing thing with the family and I bet she misses that.
Yesterday we went to visit my Grandmother that just lost my grandfather to suicide. She got the biggest grin on her face when we walked into her hospital room. It was a surprise and it was priceless. We got her a good ole southern hamburger all the way and a pepsi and she was in pure bliss eating that. We got a four generation picture that I wanted to share. This is my grandmother, my mom, myself and my oldest daughter Madisyn: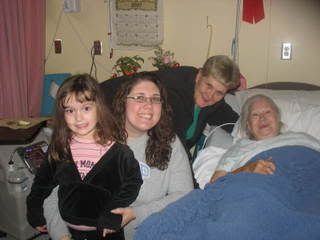 We had a really good visit and my mom and I both left with tears in our eyes. After we left there, we headed over to my other grandmother's. This was my dad's mom. We were surprising her as well. We drove up and she had her front glass door open and saw up pull up. She came to the door just a grinning from ear to ear. That melted my heart just the same. Of course we had to get a four generation picture with her, my dad, myself and my oldest daughter Madisyn 😉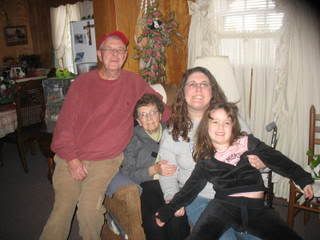 I have always been extremely close to this grandmother as when I was a little girl, would go to the mountains and stay my summers with her and throughout the school year stay on several sleep overs. She is 95 years old and just amazes me all the time. You can imagine my face when she gave me my homemade loaf of banana bread. For as long as I can remember she has gave me a fresh loaf for my birthday and christmas. I LOVE LOVE LOVE her bread. Of course I had to take a picture: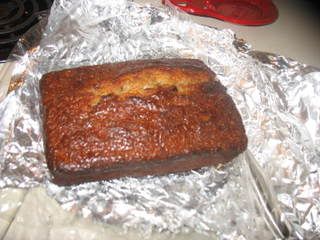 It was sad to leave her as well. We just kept on hugging and she kept talking and trying to give me stuff. You could tell she didn't want us to leave. She loves the girls so much as well.
It was a very wonderful day to see both my grandmothers and get these pictures as well. I'll cherish them forever!!!
Now we are getting ready for a big snow storm to it. We are all excited to experience it before we head back south unfortunately :(. I hope you all are having a great Holiday Season and HAPPY NEW YEAR to all my mom blogging friends!!! I know this year is going to be great as we are starting it out just right hehe.