Life is so much more grand when friends join other friends to make a difference. Who said we need to sit in our house and only look at our walls without letting anyone in? Life just would seem so miserable to me. I have a heart to help others and be there for others. Now, granted life is so busy right now with my work schedule and all day on campus three days a week, that I do not have as much time available these days. This busy schedule pulls me away from helping others like I would want too, but I still can manage a bit of online time right?
Friends as we all know, autism has been on the rise for the past few years. Now, I am in no way or fashion going to get in a debate here on why the increase. I do know though, that more awareness needs to be brought to our attention. If we all work together, we can make a difference. Recently, I was made aware of the Autism United Organization. Their tagline is "If we join together, we can make a difference." This statement is 100% truth.
I see through my computer screen every day how much my sweet and dear friend Nan has to go through during her child's autism journey. She loves her son unconditionally and is such an awesome mom. She is committed to all his daily therapies, his daily medicines and his well-being. She is his voice. Even when insurance shuns them and are not willing to pay for his therapies anymore, her husband and her work hard to ensure he still receives his therapies. I try each day to be there for her, support her with words and love, and just lend a listening ear. Can you imagine if she had no one to talk to and had to keep this all bottled in? I would not even want to begin to imagine.
When is the last time you reached out to a friend? When is the last time you gave encouraging words to make their day better? Let's put our woes behind us and remember that others are going through a different struggle daily. It helps to build a community just as Autism United as done. Here are a few of their objectives:
1. Raise autistic awareness
2. Bring together a community of people dealing with Autism
3. Share stories of inspiration
4. Provide quality information and help to those in need
5. Work with top autistic research facilities
6. Provide special education and developmental learning resources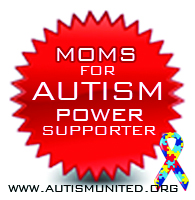 Moms… let's all join together and make a different for Autism Awareness. Will you please?

Disclosure: This is a sponsored post. All thoughts and opinions are of my own.