Here we go….I am a little nervous but know I have done so well by sticking to my points allowed each day of the past week. I really hope I have lost. It will make me so giddy.
I was looking back on pictures. I lost my weight sooooooo good after M. Back in size 6's by the time she was 6 months old. Here is one picture of just my face, but you can tell how great I looked.

I got pregnant with my wonderful bundle of joy number 2 L and from the get go, just couldn't lose the weight. Here I am when she was 8 weeks old in the hospital with RSV. This picture shows how big I am, but it makes me so sad because M was sick as well and needed me just as much as L did.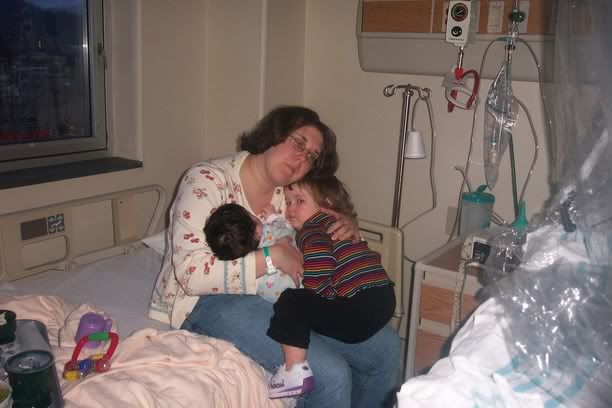 See the difference in my face? UGGGH. I am shooting for my face to go back to the first picture. I can do it I can do it I can do it!!!
I tried a great Weight Watcher's recipe tonight. You may want to try it. Each slice is only 1 point.
1 box of cake mix (I used Orange Dream, you can use just plain white cake mix)
1 can of diet Sunkist drink
2 egg whites.
Bake as the temperature on the cake box.
Let the cake cool and top with fat free whipped cream.
It was a big hit here tonight… everyone enjoyed it. I didn't feel guilty eating it either since it was so low in points YAY 🙂