Most kids you know from the time they are born get adapted to a lovey and will need it every place they go right? I always tried to get my girls to love a favorite blankie just as I did when I was a little girl. My girls would never want anything to do with a blankie. I would buy several and even made them myself but nope… they just weren't going to have it ;).
After a couple years, Madisyn did finally want her Wiggles Blankie at night, but that only lasted about a year or so until she proclaimed loud and clear that I don't need that blankie mommy and threw it at me LOL. She gets her 'tude from her mommy
.
After my second daughter was born Lyndsee… I of course tried different blankies with her too but nope she didn't want my ole stinking blankets either HA! She wanted something that she could have anytime at the drop of a hat and it would never get lost. Ta DA… here is Lyndsee poo's lovey: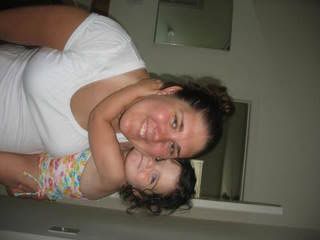 That's right her mommy Jen!! Let me explain this… when she was about 5 months old she would have to have my hair when she would nurse or fall asleep. I just thought it was her natural way of holding onto me. Guess what she still has to have my hair… if she gets hurt, or just wants to snuggle or when she goes to sleep or when she wakes up in the middle of the night she has my hair. Sometimes even if she sees a person she doesn't know she gets up in my arms and goes straight for my hair. Now I think this is just the cutest thing ever and it warms my heart that I am her lovey except at 3am in the morning when I get woke up from a deep sleep with fingers in my hair hehe and I go crazy until I realize its just my precious 2 year old hehe.
I know the other night Scott was just waking up to get out of bed to go to work and Lyndsee had rolled over to get her daddy's hair thinking it was mine. He said he laid there just a few more minutes until she drifted off to a good sleep before he got up. I was so proud of him and that warmed my heart when he told me… 🙂 He has always be a big fan of our co-sleeping even if the couch has to be his bed at nights when the girls kick him out of bed 🙁 LOL.
So what about your child? What is their lovey and does any of your children use your hair as their lovey?