Do you ever have a problem trying to figure out what to buy that special little boy in your life? That is me with my nephews. I am always scratching my head. Thankfully, D3Publisher helped make that decision for me this year.
For the past year, I have heard tidbits here and there about BEN 10. Since I have girls, I didn't realize how popular this TV series was among kids. The publishers have took this hit TV series (among 4.3 million kids) and made a racing game.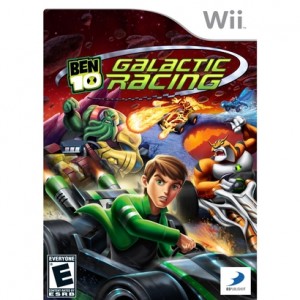 Fans of BEN 10 will enjoy an experience like never before in a galactic grand prix filled with surprises at every turn. My nephews are going to be so stoked! An extra special addition is the game is 100% authentic to the show.
Not only is the game crazy fun for kids, but it is also perfect for families as up to four players can play together. Who doesn't love a little high-speed, family friendly competition?
Players can choose from up to 30 karts, and experience more than 25 race tracks which include action-packed courses that shift mid-race, on five massive planets. Players can race as Ben, who can transform into aliens mid-race by picking up special power-ups, or as other characters from the BEN 10 universe.
BEN 10 Galactic Racing is available for the Nintendo DS, Wii, Xbox 360 and PlayStation 3. It will be available on the Nintendo 3DS later this month.
WIN!
3 lucky fans are going to win their very own copy of Ben 10 Galactic Racing – $39.99 ARV.
To Enter:
Disclosure: I was provided a copy of the game in order to facilitate this review. All thoughts and opinions are of my own.