First, I have never owned an iPhone nor do I own any Apple products. I am very content being a PC girl and a Droid girl. Have I marveled at the mac book and drifted off into dreamland? Indeed, in fact many of times but I just know it is not feasible with our finances.
I have recommended different Droid phones but I always had to add in a few cons with each of the phones. It is different with the release of the Samsung Galaxy SIII. Just hear me out for a few minutes.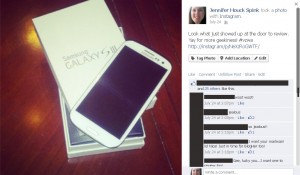 My technology world changed when this phone showed up at my door step via the FedEx guy. He probably was just curious why I wanted to hug him so bad, I restrained myself… so don't worry. As you can see, several of my FB friends were a little jealous of the phone. They have good explanations on why they are jealous too.
Top 6 reasons why I can recommend the Samsung Galaxy SIII 100%
1. I can finally do screenshots. I will admit, I was a little jealous of the iPhone users that were able to do screenshots so easy, but now the jealousy is totally gone.
2. Swipe Text is my best friend. Seriously, where has this feature been all my life? It is so much easier to text now and everywhere I take the phone, it is the number one feature I show-off first. People cannot believe it….
3. The screen size. I am getting older. My eyes cannot see on little screens like they use too. How did I text on the little flip phone just 4 years ago? Who knows… The Galaxy SIII has a 4.8" HD Super AMOLED™ display. The color will just amaze you. It brings details out in much better quality than any phone I have experienced.
4. The camera. Don't you hate when you go take a picture with your cell phone and you have that shutter lag? This phone has ZERO shutter lag. Cue the chorus! You can actually take 20 continuous shots in seconds with Burst Shot. The camera has 8.0 megapixels. Pretty nifty for a cell phone camera.
5. S-Voice. Who needs Siri? I do not. My partner is S-Voice. M and L loves talking to S-Voice too. Plus, with Motion Gestures, your phone can perform tasks from simple movements, like starting a call by raising the phone to your ear. LOVE! Plus, a simple tap on an NFC tag will launch apps and perform custom tasks with TecTiles.
6. Video. When I go out of town, I am able to connect to the wifi and video chat with my girls using G-Talk. I love this feature. Also, watching Netflix on the phone produces such quality video resolution.
There you have it. Since I do not have any Apple products, it just doesn't make sense to rush out and get an iPhone. I am getting more from the Samsung Galaxy SIII than I ever imagined. Samsung is giving iPhone a run for their money for sure. Which deep down, just excites me so much!
Disclosure: I am a Verizon Wireless Ambassador. I am provided with technology devices on a rial basis in order to facilitate my reviews. All opinions and thoughts are of my own and are honest!