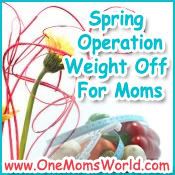 End of Week 3.
I'm not going to lie… it has been a very stressful week filled with all kinds of family. I didn't even focus on drinking all my water I should be and doing my DVD.
But… I got on the scale this morning and was happy to find 2 more pounds gone. That made my morning because I was doing me some more stressing that I had gained.
With that said:
Beginning Weight: 200 lbs
This Week's Weight: 189.5
I believe everything is calming down so I am going to be doing a big week this week with my DVD and my water water and more water.
How did everyone else do. Please link up and tell us. We all need the support and us moms can do it!!!