This blog post has been on my heart tonight. It is really personal but I thought I would share my story anyways. I touched on this story a bit with Sarah from Real Life Blog last Thursday on our trip to Raleigh, NC. Here goes!
Tonight when I was putting the girls to bed.. I heard M talking real softly. As I was kissing L good night, I leaned over to M and said: "Who are you talking to?"
M said: "I am talking to God, mommy"
That immediately warmed my heart and just out of blue she said: "Mommy, when I get home from school tomorrow night.. I want us to read my bible together." This speaks so much volume to me, you just don't know.
You see…I was always brought up in a Christian home and we were always in church. I got married to my highschool sweetheart right out of highschool. The relationship did not work as we were so young that we didn't make it work unfortunately. I got out of that relationship and started seeing the man that is now my hubby today! Just a couple months into that relationship, I found out I was pregnant.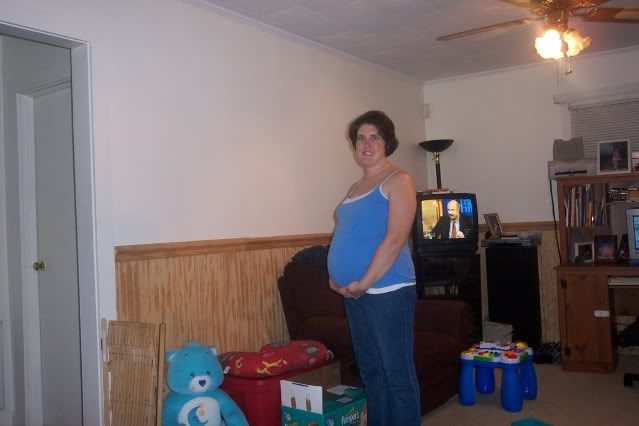 This was not good :(. I cried so much. On one spectrum, I was so thrilled to finally be a mom, but on the other spectrum I was scared to death. My whole family is real religious and loves our almighty God. I have several preachers in my family. So as you can see, being pregnant out of wedlock was not good. I remember calling my mom and telling her first. Her own first words to me were "I am really disappointed in you." "We never dreamed of our daughter doing this."
I was the child that never partied, never got drunk, never smoked, always made straight A's, worked two jobs in highschool to help my family make ends meet. So my pregnancy was just wrong. Everyone around me was judging me so bad and looking down on me. The one person that I thought would really judge me was my BF from highschool Holly. But… I was totally wrong. She did not judge me at all. She was there to comfort me through so many tears and helped me get through those first couple of months. No one knew, but as I would cry so hard everyday… the thought that ran through my head was I should just kill myself. That way I wouldn't disappoint anyone anymore.
As time moved on, my family accepted what happened and started treating me with respect again. BUT… I was still facing God. I served him so wrong. I was scared to even step foot in church… afraid of what would happen. Life went on and I had my wonderful, super fab, M. She was beautiful and I could never imagine life without her. As we were going on with life… I was still so scared to go face God. Then unexpectantly, I got pregnant again with L. Here we go round 2. Pregnant again out of wedlock. I waited till I was 5 months to even tell my extended family and 12 weeks to tell my mom and dad this time. I had lost lots of weight so it was easy to hide. Then we had our wonderful, super fab, L. Life was so grand. It was soon to be hubby, myself, and my girls. Life was complete. Or was it? We still needed God in our lives. I was so scared though since hubbs and I were not married that God would not accept us.
Hubby and I did eventually get married. I was just so scared to get married incase of having another failed marriage, but we both took the leap and did it :). Yay.. finally! We have now been married almost 2 years and brought God back into our family…. its just wonderful. Those deep wounds have been healed and I am not scared of facing God anymore!
So with M saying what she did tonight, just spoke so much to me. I am raising her right in the eyes of the Lord. He is shining bright in our lives now. Everything is going to be A-OK! We have found a great church family where we can be involved and be accepted for who we are. The girls can be involved with children's activities and I am excited to go to my first Womens Ministry group this Wednesday. I just feel so at peace now with all that has went on the last 7 years. God is helping me heal those wounds.
This  morning in Church a song was being sang by a wonderful lady and there was so much spirit with people praising the Lord, crying happy tears because they were moved so much. Both hubby and I looked at each other and were crying. Neither one of us were ashamed as we are born again Christians and we are where we are suppose to be. We all feel whole again. We are now complete as a family!
As we were walking in from Church this afternoon… hubby said: "Jen, we need to find a nice home wall accent that says This House Serves The Lord!" I said AMEN to that!
I know my past is not perfect (I am sure people will still look down on me) but I am thankful that I can repent my sins and be forgiven. I can start walking on the right path now and it just thrills me so much that my girls want to follow that path with us.
This post really means a lot to me and thank you so much for letting me share it!