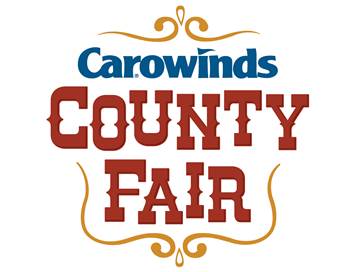 True Carolinians will agree, the feel of an old county fair is like no other. Now guests can enter into an atmosphere of timeless fun for all ages as Carowinds opens an all-new County Fair themed area in spring 2017.
More than three-acres of family fun await in County Fair, featuring four retro classic rides: the twists and turns of Do-Si-Do glides guests up, down and around on three giant arms; the floorless gondolas on Electro-Spin flip guests upside down up to 63 feet above the ground; Rock 'N' Roller's circular motion paired with music tunes and spectacular lighting is a crowd pleaser; and grab the family for some high flying action on the Zephyr swing ride.
The hardest part of the day might be deciding which regional treat to eat! No fair would be complete without recognizable smells and tastes from some "blue ribbon" favorites including: fried corn, hot dogs, cotton candy and fresh cut fries – yummy! Let's not forget the ever-popular funnel cake. Guests can indulge the deep-fried pastry the old-fashioned way, or chow down on our bite-sized funnel cake fritters.
The County Fair section of the park will feature a wide range of activities that exceed everyone's imaginations. Family members of all ages can enjoy the comforting feel of the old fair imagery.
"We combined some long-time guests' favorites, four classic fair rides, traditional fair food and music, to bring a one-of-a-kind experience families will want to enjoy over and over again", says vice president and general manager, Pat Jones. "Parents can go back in time and re-live their childhood with their kids and create memories that will last a lifetime."
It's not too late to purchase a 2017 season pass or renew a current one at the lowest price of the year at carowinds.com. Season passholders will get to experience the all-new County Fair before anyone else during Carowinds exclusive Season Passholder Preview night Friday, March 24 from 6-10 p.m. The park opened to the public on Saturday, March 25.