Let's face it, there are not many movies that the whole family can sit down and enjoy altogether. The kids either like the animation and the adults love adult movies. That is all changing thanks to Walmart and P&G with their Family Movie Nights.
I was able to what an exclusive pre-screening with my family of the featured movie this week – Truth Be Told.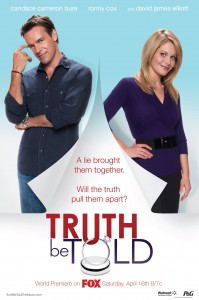 During the screening, Candace Cameron Bure (yes DJ from Full House) was chatting with us about the movie and giving us a behind the scenes tour so to speak. The movie was so well done and one that the family actually watched the movie all the way through without moving just because it was that good. M and L who are 8, 6 were glued to the TV. I think the horses are what won L's heart over.
Truth Be Told is centered around a lie.
From the site:
"When leading marriage counselor Annie Morgan (Candace Cameron Bure) is offered an opportunity to host a relationship talk show, she jumps at the chance. But fearful that being single might ruin her big break, she conspires with an old college friend and recent widower, Mark Crane (David James Elliott), to pose as a married couple with kids. Their story starts to unravel when Annie and Mark join her eccentric soon-to-be boss (Ronny Cox) for a weekend at his ranch in New Mexico. Comical misunderstandings mark the event as Annie struggles to keep up the ruse, finding herself emotionally invested and conflicted by her own conscience. Will she confess the truth about her marital status and her feelings for Mark… and will the truth set them free?"
Of course, I have a teaser too:
As a family, the movie teaches us all what a little white lie can do. It teaches morals the good ole fashioned way instead of using sex, violence, or bad language. I even told Cameron in chat that it was so nice to sit and watch the movie the entire time without having to worry if a part would come up on the screen that I do not recommend for my girls. The best part too, was the acting in the movie was not cheesy at all. It was really well done, scripted and produced.
I have said enough, now it is time for you to tune in Saturday Night to watch the movie with your family. Tune into Fox April 16 at 8/7c. Pop some popcorn and gather around the screen to have a great family movie night.
Stay up to date with future family movie nights on the Family Movie Night Facebook Page, Twitter Page or Website.
P.S. I was not compensated for this review at all. I just love to share good family fun with my readers and this is a movie that I highly recommend!