Apple season is amongst us here in the beautiful NC mountains. The aroma, the taste, and the ever ending apple creations just thrills me beyond delight. Our family has an addiction to the mouth-watering fried apple pies in Pigeon Forge at the best ever Apple Barn known to man, but only one thing that stops us from eating them everyday. Our hips attract the calories and fat the minute the pie hits our stomach's.
I grab the laptop, went to the information hound google, and searched for a more calorie-friendly fried apple pie. I found this one on Cooks.com. I did some adjustments and came up with a very delicious fried apple pie. Does it match Apple Barn's recipe? Not even close, but it is very delightful and my hips will not show how much I LOVE apple pie!
M helped me pick out the apples and wash them really good. We added them to our boiling pot. Cooked them on medium heat.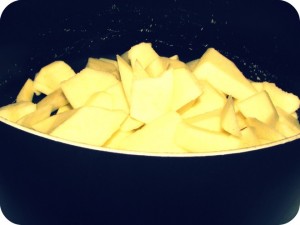 Next, we added lemon juice.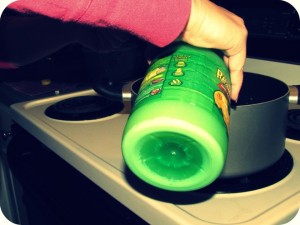 Dry ingredients were added.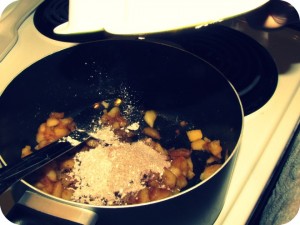 Fill the pita bread with apple mixture. Spray the skillet with pam, place the apple pie in the skillet.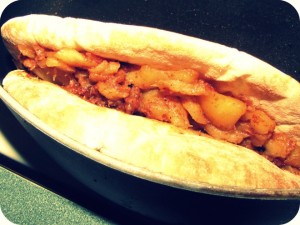 Spray the I Can't Believe It's Butter all over the pie and ENJOY – Only 4 Pts!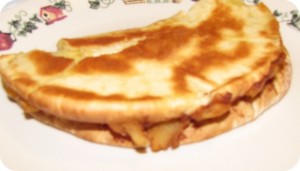 RECIPE (Adapted from Cooks.com)
1 pkg. pita bread (6, 2 oz. each)
8 large apples, peeled & sliced
1 tbsp. lemon juice
4 tbsp. cornstarch
3 tsp. cinnamon
1/2 tsp. nutmeg
10 pkg. Equal
Spray Butter
Cook apples in lemon juice. Add remaining ingredients. Fill each slice of pita bread with 1/2 of mixture. Fold over. Brown in skillet sprayed with Pam. Makes 6.
4 Points Weight Watchers.